StudyDriver in your Smartphone!
Gender-Segregation in Sports
Sports in America is one main source of entertainment but when some sports try to add women and men in combined play fans may not be so supportive. Those fans are not used to such a modern although it would be interesting to see the results of some traditional sports switch and add both genders. Society, for a variety of real and perception reasons, is apparently not ready to end gender-segregation in professional sports. However, let's embrace mixed-gender sports for a variety and enjoyment.
Sports such as badminton and cricket, were invented by the British while their soldiers were stationed in India during the 18th century. Eventually, the soldiers took badminton back to England, where its rules were standardised for the first time (Telegraph.uk). They have been the start of many sports, of course with other names. The picture of these times show both women and men playing badminton together. The British appear to have accepted all genders to play together instead of separately. They did not care about the gender differences of physicality, strength, speed, weight, height, etc during those colonial days, so why should the fans of today? There are so many people who think men can do everything better than women, especially sports, usually the first thing they think of until they consider it more deeply. What's more, women are already good, yet underrated, at endurance and stamina in events that last longer than two hours, the one area where there is evidence that they actually are able to outperform men (Sanders). People have said men have better endurance and stamina than women, but once they see women defeat even men's records or times, their opinions can be changed by these amazing feats. Women can feel that men always have to have that winning ulta- competitive spirit as a demonstration of power. Just one experience of a WBNA game; women pro soccer match, women's Olympic Judo competition, or even the hard-hitting Gridiron Owls Football will convince many people that women can be just as competitive, if not more.
Although there may be some fans that do not want to see women compete with or against men, in this day and age people should be open to this concept. People are so used to traditional sports and seeing separate genders play, changing this may cause some of them to stop watching sports. At least this outcome might be a concern of the sports leagues and TV networks. It has been claimed that if new weight and length classes are introduced in many sports [and] if the rules are changed, women will be able to compete against men and win in several sports (Piccioto). It may also cause businesses and marketers to lose the value of their brand, and thus make less money and business for themselves. Even team coaches or their players may become disgruntled under such circumstances and may even want to quit or protest against those who support having combined teams. On the positive side, combined gender sports might in fact lead to better relations between men and women. Husbands and wives might be able to relate better to teams and even share favorite players.
Sports are split up into mixed sports and true mixed sports that provide options for athletes. Some wonder when more traditional sports will be tested in any of those categories. There are actually a few sports men and women compete in together such as Table-Tennis, Squash, Tennis, Badminton, Luge, and Ice skating. In these sports competitions when men and women form teams and go against another mixed teams. This way, men and women compete together and against each other in a fair way as both teams feature the same number of male and female players (rulesofsport.com). True mixed sex sports is when men and women compete directly against each other regardless of the sex and this mixture does not seem to matter for the outcomes. Two sports that are true mixed sex sports are Equestrian and Sailing. They bring in the contrasting physicality of athletes in sports, a main reason against doing joint sports. They split the sports up into mixed sports and true mixed sex sports to have options to choose from. Some wonder when more traditional sports will be put into any of those categories.
Combining traditional sports with both genders is inconclusive until the businesses are comfortable with all sides to go forward with this idea. They have to make sure it will be okay for their fans, sponsors, media, and even their teams so that business does not go downhill. If so, sports entertainment will never consider the idea again. With all the embracing movements in society today, we should be so bold and courageous to take this next step and truly welcome mixed gender sports.
Cite this page
Gender-Segregation in Sports. (2019, Nov 27). Retrieved from https://studydriver.com/gender-segregation-in-sports/
"Gender-Segregation in Sports." StudyDriver.com , 27 Nov 2019, https://studydriver.com/gender-segregation-in-sports/
StudyDriver.com. (2019). Gender-Segregation in Sports . [Online]. Available at: https://studydriver.com/gender-segregation-in-sports/ [Accessed: 3 Dec. 2023]
"Gender-Segregation in Sports." StudyDriver.com, Nov 27, 2019. Accessed December 3, 2023. https://studydriver.com/gender-segregation-in-sports/
"Gender-Segregation in Sports," StudyDriver.com , 27-Nov-2019. [Online]. Available: https://studydriver.com/gender-segregation-in-sports/ . [Accessed: 3-Dec-2023]
StudyDriver.com. (2019). Gender-Segregation in Sports . [Online]. Available at: https://studydriver.com/gender-segregation-in-sports/ [Accessed: 3-Dec-2023]
Gender-Segregation in Sports. (2019, Nov 27). Retrieved December 3, 2023 , from https://studydriver.com/gender-segregation-in-sports/
Save time with Studydriver!
Get in touch with our top writers for a non-plagiarized essays written to satisfy your needs
Stuck on ideas? Struggling with a concept?
A professional writer will make a clear, mistake-free paper for you!
Leave your email and we will send a sample to you.
Please check your inbox
Interested in this topic?
Please indicate where to send you the sample.
Hi! I'm Chatbot Amy :)
I can help you save hours on your homework. Let's start by finding a writer.
Home — Essay Samples — Life — Women in Sports — Sex Segregation: Should Sports be Segregated by Gender

Sex Segregation: Should Sports Be Segregated by Gender
Categories: Competitive Sports Women in Sports
About this sample

Words: 853 |
Published: Dec 16, 2021
Words: 853 | Pages: 2 | 5 min read
Works Cited
Chrisler, J. C., & Pryzgoda, J. (Eds.). (2012). Handbook of Gender Research in Psychology: Volume 2: Gender Research in Social and Applied Psychology. Springer.
Coakley, J. J. (2017). Sports in Society: Issues and Controversies. McGraw-Hill Education.
Cunningham, G. B., & Pickett, A. C. (2018). Sex and Sport: Cross-Cultural Perspectives. Routledge.
Dashper, K. (2012). Gender and Sport: A Reader. Routledge.
Fink, J. S. (2015). Sexuality and the Sporting Body. Routledge.
Messner, M. A. (2011). It's All for the Kids: Gender, Families, and Youth Sports. University of California Press.
Pryzgoda, J., & Chrisler, J. C. (2000). Definitions of Gender and Sex: The Subtleties of Meaning. Sex Roles, 43(7-8), 553-569.
Rowe, D. (2015). Sport, Culture and the Media: The Unruly Trinity. Routledge.
Whisenant, W. A., & Pedersen, P. M. (2019). The Sociology of Sport: A Global Perspective. Human Kinetics.
Young, K., & White, P. (Eds.). (2018). Sport and Gender in Canada. Don Mills, ON: Oxford University Press.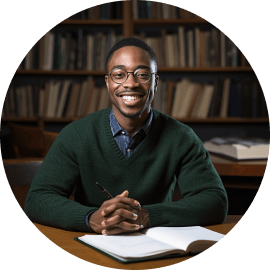 Cite this Essay
Let us write you an essay from scratch
450+ experts on 30 subjects ready to help
Custom essay delivered in as few as 3 hours
Get high-quality help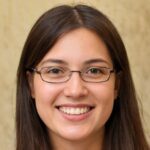 Verified writer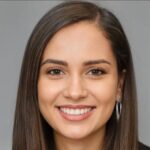 + 120 experts online
By clicking "Check Writers' Offers", you agree to our terms of service and privacy policy . We'll occasionally send you promo and account related email
No need to pay just yet!
Related Essays
2 pages / 1088 words
2 pages / 911 words
2 pages / 1125 words
2 pages / 963 words
Remember! This is just a sample.
You can get your custom paper by one of our expert writers.
121 writers online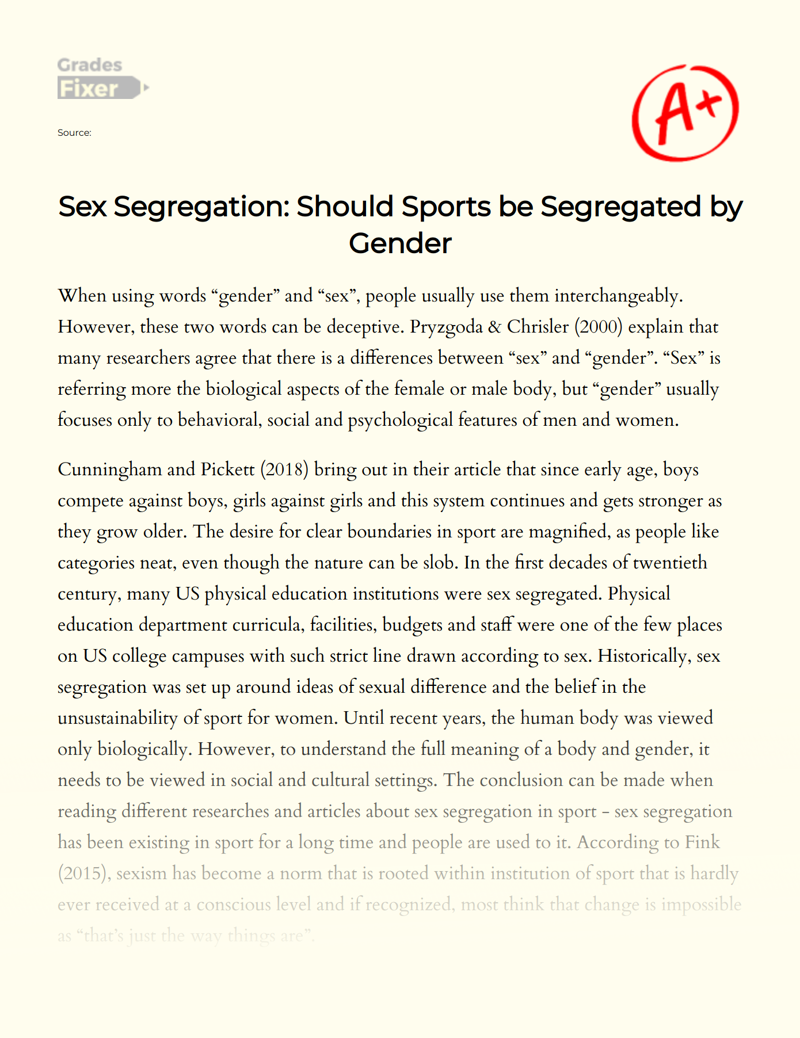 Still can't find what you need?
Browse our vast selection of original essay samples, each expertly formatted and styled
Related Essays on Women in Sports
Bianchi, A. "Something's got to give: reconsidering the justification for a gender divide in sport." Philosophies 4.2 (2019): 23.Elling-Machartzki, Agnes. "Extraordinary body-self narratives: Sport and physical activity in the [...]
Gayles, Ryan. 'NCAA Rules for Transgender Athletes.' SportsRec, 18 May 2022, www.sportsrec.com/ncaa-rules-transgender-athletes-5233281.html.Gleaves, John. 'Discrimination and Challenges Faced by Trans Athletes.' Journal of Sport [...]
American Foundation for Suicide Prevention. 'Suicide Statistics .' The American Foundation for Suicide Prevention , American Foundation of Suicide Prevention , 2017 , afsp.org/about-suicide/suicide-statistics/. Accessed 4 Dec. [...]
Davis, C., & Fox, K. R. (2007). Physical activity patterns assessed by accelerometry in older people. European Journal of Applied Physiology, 100(5), 581-589.Parfitt, G., Pavey, T., & Rowlands, A. V. (2009). Children's physical [...]
Throughout this paper the issues of women, athletics, stereotyping and opportunities that are/are not available to females in the professional arena of athletics will be explored. Indeed, racism and sexism has traditionally [...]
Football can easily be said as one of the most popular sports in Singapore. Both males and females enjoy not only watching, but also playing the sport. In schools, it can also be seen that children love playing football, [...]
Related Topics
By clicking "Send", you agree to our Terms of service and Privacy statement . We will occasionally send you account related emails.
Where do you want us to send this sample?
By clicking "Continue", you agree to our terms of service and privacy policy.
Be careful. This essay is not unique
This essay was donated by a student and is likely to have been used and submitted before
Download this Sample
Free samples may contain mistakes and not unique parts
Sorry, we could not paraphrase this essay. Our professional writers can rewrite it and get you a unique paper.
Please check your inbox.
We can write you a custom essay that will follow your exact instructions and meet the deadlines. Let's fix your grades together!
Get Your Personalized Essay in 3 Hours or Less!
We use cookies to personalyze your web-site experience. By continuing we'll assume you board with our cookie policy .
Instructions Followed To The Letter
Deadlines Met At Every Stage
Unique And Plagiarism Free
The Issue of Gender-Separated Sports
I argue that gender separation in sports is both useful and necessary, and there are several reasons for that. Gender-separated sports provide better opportunities for all gender involved while also respecting gender-related patterns of building social relations, and replacing gender with other criteria, such as athletic performance, would likely undermine women's position.
The main advantage of gender-separated sports is that it provides better competitive opportunities for everyone involved. While gender is not synonymous with biological sex, there is still a strong correlation between the two and, correspondingly, the physical characteristics of athletes. Creating gender-mixed teams based on athletic performance would result in the best teams being utterly dominated by men with few chances for women. Hence, as Ore (2018) puts it, "sex-separate competitive opportunities are the best route to equal opportunity and fair competition for all" (p. 107). One may argue that gender separation in sports may impede the athletes' ongoing socialization. However, even if one considers children and youth shoes socialization is not yet complete, sports is only a secondary socialization mechanism as compared to family or school (Dalen & Seippel, 2019). Moreover, there are significant gender differences in building social relations in sports teams, meaning that gender separation may provide for better team cohesion (Dalen & Seippel, 2019). Thus, gender-separated sports are both useful and necessary in terms of equality and efficiency alike.
The issue has practical implications for ensuring better opportunities in sports in all settings. It can inform one's practice by highlighting the fact that the abolition of gender separation in sports will most likely diminish opportunities for female athletes. One's awareness of gendered social patterns of building social relations in sports teams may also be useful to ensure better cohesion.
Dalen, H. B., & Seippel, (2019). Social networks and gender in organized youth sports.  European Journal for Sport and Society, 16 (4), 323-341.
Ore, T. E. (2018). The social construction of difference and inequality: Race, class, gender, and sexuality (7th ed.) Oxford UP.
Cite this paper
Chicago (N-B)
Chicago (A-D)
StudyCorgi. (2022, January 15). The Issue of Gender-Separated Sports. Retrieved from https://studycorgi.com/the-issue-of-gender-separated-sports/
StudyCorgi. (2022, January 15). The Issue of Gender-Separated Sports. https://studycorgi.com/the-issue-of-gender-separated-sports/
"The Issue of Gender-Separated Sports." StudyCorgi , 15 Jan. 2022, studycorgi.com/the-issue-of-gender-separated-sports/.
1. StudyCorgi . "The Issue of Gender-Separated Sports." January 15, 2022. https://studycorgi.com/the-issue-of-gender-separated-sports/.
Bibliography
StudyCorgi . "The Issue of Gender-Separated Sports." January 15, 2022. https://studycorgi.com/the-issue-of-gender-separated-sports/.
StudyCorgi . 2022. "The Issue of Gender-Separated Sports." January 15, 2022. https://studycorgi.com/the-issue-of-gender-separated-sports/.
StudyCorgi . (2022) 'The Issue of Gender-Separated Sports'. 15 January.
This paper, "The Issue of Gender-Separated Sports", was written and voluntary submitted to our free essay database by a straight-A student. Please ensure you properly reference the paper if you're using it to write your assignment.
Before publication, the StudyCorgi editorial team proofread and checked the paper to make sure it meets the highest standards in terms of grammar, punctuation, style, fact accuracy, copyright issues, and inclusive language.
If you are the author of this paper and no longer wish to have it published on StudyCorgi, request the removal . Please use the " Donate your paper " form to submit an essay.
Essay on Should gender segregate sports?
Essay – should gender segregate sports.
Gender segregation had been an ancient practice since the Olympics had been held in Athens, Greece in 776 B.C. The discrimination based on gender and unequal treatment of women in sporting events was based on the anachronistic perception that women are of weaker physical build than men. While suppression of women has been a major limitation of sports in India, brutality and subjugation of the LGBTQIA+ community have faced the worst form of isolation in sports. For instance, many supporters, as well as players, resigned from participating in the 2018 FIFA WorldCup apprehending homophobic slurs and violence emanating from an all-pervasive sense of homophobia.
Prime Minister Narendra Modi led the Indian government and has taken initiatives to erase the gender parities in sports by launching the Khelega India Toh Khilega India programme for the development of the youth in athletics and sports on 22 July 2021.
The sports initiative was aimed at paying a tribute to athletes of India such as Dhyanchand and Milka Singh. In addition, the programme also aimed at inspiring youth, especially women and athletes belonging to genders beyond the recognition of cisgender normativity.
Indian female athletes such as P.V.Sindhu has established the Indian Shuttling roster on the world stage along with boxer Mary Kom. Despite India's persistent regressive outlook towards
Female participation in sports and their groundbreaking performances have compelled the entire nation to voice their opinions in promoting the participation of women in representing India. The National  Survey carried out by the government in recent years states that only 29% of women in India have fair representation in sports on the world stage. The numbers are discouraging when compared to the representation of their male counterparts.
However, women representing the national hockey team have been promising since their inaugural participation in the 1974 Mandelieu Olympics . their first breakthrough came in the 1984 Asian Games as they won their first-ever international gold.
Conclusion                
To conclude, India has gone through major paradigm shifts as far as representing their country in international events like the Olympics and Asian games are concerned. Women's representation in sports for their country has been mostly in Hockey which accounts for around 34%. The recent launch of the Women's T20 league is a major stride in women's cricket and its viewership. This resulted in the Indian women's team winning the silver medal in cricket in Olympics 2020.
FAQs on Should gender segregate sports? essay
Q1. When did India participate in Women's Hockey?
And: women representing the national hockey team has been promising since their inaugural participation in the 1974 Mandelieu Olympics . their first breakthrough came in the 1984 Asian Games as they won their first-ever international gold.
Q2. How is Indian Women's Cricket Team developed?
And:  The recent launch of the Women's T20 league is a major stride in women's cricket and its viewership. This resulted in the Indian women's team winning the silver medal in cricket in Olympics 2020.
For more update follow our  net explanations homepage
Leave a Reply Cancel reply
Your email address will not be published. Required fields are marked *
Save my name, email, and website in this browser for the next time I comment. Segregation In Sports
Discrimination against women in sports: it (still) a man's world.
Traditionally women were viewed as equipped to participate in sports, and their involvement was viewed as unfeminine and undesirable. This Article Examples the women were viewed as unfeminine to the sports that men play and undesirable. Young girls who are given an early opportunity to participate in sports may be more prepared for the male in classrooms. Even though women have often been relegated to second-hand citizenship in the same socializing, integration, statues, and recognition that benefit male athletes. (By; Sandra L. Hanson)
Gender Inequality : Women And Women
There are hundreds and thousands of athletes all around the world but the main problem in the athlete world is gender inequality, women are not shown equal as men. They are discriminated in many ways such as pay, employment opportunities, value of women 's sport, media coverage etc. Despite the federal law passed called Title IX that "No person in the United States shall, on the basis of sex, be excluded from participation in, be denied the benefits of, or be subjected to discrimination." there is still gender inequality women are considered less than men. No matter what happens people will always have inequality against men and women because of the environment they live in and how they were raised. Women are
Women's Pay in the Professional Sports Industry
Women have struggled for more than two centuries to be taken serious as professionals. There should not be a double standard in sports especially if it is loved and played by both genders. Over the years, females have competed against the stereotype of being too fragile both mentally and physically to play strenuous sports. The passion and work ethic of the female professional athletes is just as strong as the males and everyone should be treated equal and be able to have a chance at making a better living for themselves as well as their family. One area that still faces a continual struggle in sports is gender equality. Female
The Psychological Differences between Men and Women in Sports
There has always been that stereotype of boys being more athletic than girls. The gender segregation of sports reflects more than just physical differences between men and women. It reflects the way men think about women and sports. When someone throws a baseball in a nonathletic way, a friend would yell, "Stop throwing like a girl!" Being reminded of this
The Role Of Title Ix Essay
Sports have been a large part of society throughout history. They have brought out happiness, joy, hard work, determination, and teamwork in the individuals that have participated in them. However, there have been negatives involved with sports throughout history also, including gender roles, which are defined as the public image of being a particular gender that a person presents to others. These roles have been created by society and passed down from generation to generation, informing one another of false beliefs that say that one gender, usually males, are better than females. In sports, these often say that women have significantly lower performance levels, show less drive and that women see competition as unnecessary. In reviewing the initial beliefs and problems before Title IX, the role of Title IX, the problems still existing today, and the modern movement, it is seen that progress has been made, but also that there is also more to do.
Segregation In Major League Baseball
During the 1920's and 1930's, which was a time of discrimination and racial injustice for African-Americans, to whom Major League Baseball was exclusively off limits, was considered a "White Man's Game." Until 1947, when Jackie Robinson broke the color barrier in baseball, by suiting up for the Brooklyn Dodgers on Opening Day, April 15, 1947. All baseball fans know the story of Robinson and the integration of baseball, but, the more important stories come from his predecessors, who worked hard to make Jackie's feat possible, and to those who would come after themselves. We all know the names Satchel Paige, Josh Gibson, Oscar Charleston, and Ray Dandridge, but we don't all know the extensive struggles they faced in order to help African-Americans
Racial Segregation In Major League Baseball
Back in the day, American baseball excluded players of African-American descent from Major League Baseball and also in its lower Minor Leagues up until 1947. Racial segregation in professional baseball was called a "gentleman's agreement"- an arrangement or understanding which is based upon the trust of both or all parties, rather than being legally binding- because there was no written agreement even at the highest level of organized baseball, the major leagues. But there was a vote in the minor league in 1887 that was against allowing new contracts with African-American players within its league which sent a powerful strike that eventually led to the disappearance of African-Americans from the sport's other minor
Female Gender And Sexuality Constructed Through Sport
Within sport, as throughout society, gender differences exist. The socially constructed phenomenon of gender dictates a dichotomous system whereby females are feminine and males are masculine. Focusing on females specifically, society determines the feminine traits and roles ascribed to this gender. Being domesticated, slender, passive and heterosexual are a part of the desirable appearance that society has formed surrounding femininity (Wolf, 1991). On the other side of the dichotomy is the masculine realm that sport plays into. Sport is fuelled by muscle, power and aggressiveness, which are behaviours and images associated to masculinity. Sport therefore, defies all existing female gender ideals. It would be assumed that females have no place within this institution due to the gender clash. However, female athletes do exist, and many are very successful. For this to work, sport has established and reinforced the social constructions of gender that exist in society. Female athletes are viewed as inferior and are pushed into gender appropriate sports. Furthermore, they are often labeled as masculine until they can prove otherwise, and so great attempts are made to reassert femininity. The stigma associated to being masculine or homosexual for female athletes is so great that many have become irrationally fearful of this label. The sexualisation of the female body and overt displays of heterosexuality are used in
Gender Roles In The 1900's
There are a lot of flaws in sports particularly high-performance sport that leads to men always getting the better outcome whether it be prize money/awards or even just recognition there is a lack of support behind women's sport. To this day I still ponder where this segregation may have come from, was it something that occurred in the past that lead to bigger problems now or has it always been like
Black Women in Sports: Sexuality and Athleticism Essay
Men and women who chose to engage in sports from which they would traditionally be discouraged because of their gender, particularly as professionals, redefine the sport. The social and cultural "costs" are not the result of the individual's participation, but rather the way in which sports have been socially, politically, and economically constructed. Gender is only one of the few ways in which people are categorized according to their proficiency for some athletic activities. Race and class are also factors which may prevent individuals from engaging in sports that have been traditionally excluded to them. Socially constructed notions of race, class, and sexuality compound the way in
Racially Integrated Teams In Sports
Nowadays, sports are considered as the center of entertainment. Friends and family gather around and cheer on for their favorite team. Regardless of any sports, there will be fans for the team no matter how small or insignificant the team is. Racially integrated team is also on the rage right now. We can see that almost every sports team or club such as football and soccer has different people from different races and nationality nowadays. These racially integrated team undergoes many issues and disputes, and up until now, the tension between the races has been the strongest issues debated between scholars. In these days many people actually believed that racism already perished from this modern sport. In reality, racism still widely exist
Culture, Race, and Gender in Sports Essay
Through the movies viewed in this course this semester, we saw women who were able to play against men and still keep their femininity. Nothing is lost when playing sports not traditionally meant for a particular race or gender. Society must become more understanding when it comes to the sports different types of people play and hinder from stereotyping anyone when they participate and perform well in that sport.
Essay on Double Standard
The sports world has been a new area where women are recognized. In previous times women's sports were almost non-existent. In schools many girl teams did not receive adequate funds for uniforms and equipment. Boys sports were much more popular, such as football or basketball. If a girl wanted to play a guy sport she would be labeled as a
Sexism In Sports
Sexism limits our country. In a world where sexism still exists, women face challenges every day as they choose to embark in athletic activities. Even with the efforts of Title IX, which was established in 1972, there is not equality in sports for men and women. Sexism is real with stereotypes and discrimination on the basis of sex. Even with the high level of success reached by numerous female athletes of many different sports, male athletes always seem to have the upper hand. Whether it is pay, media, support, gear, or playing grounds, one sex always has the better of the two. Male athletes dominate a field that truly is shared by both sexes. What if we treated male athletes the way we treat female athletes? That is a world hard to imagine, and honestly, it shouldn't be. Through female athletes sharing their stories of unfair treatment and pay, sexism and generations of inequality in sports can be overcome.
Women And Women In Sports
People might still say that the segregation of genders in sports are making gender equality impossible, but the separation of genders in sports is not because one gender is better than the other. It is to ensure the fairness and equality. Women and men are naturally built differently and they both are both truly strong but in different ways. In order to keep sports fair, just and equal, the best thing to do is to keep sports separated by
Related Topics
Practical Ethics
Ethics in the news, should men and women be segregated in professional sports.
When I zapped into the Olympics opening ceremony on Saturday, I had the doubtful pleasure to see the German sportspeople entering the stadium in ridiculously gendered jackets – pink for the girls, light blue for the boys. This renewed an admittedly rather old question in my mind: Should men and women be segregated in professional sports?
There are some mixed-gender sports, like Equestrian. Many others, however, ranging from Boxing and Football to Golf, Bowling, and Pool Billiard are gender-segregated at a professional level.
Different arguments are mentioned for why men and women should be segregated in sports. These range from pub debate level ("I would not be able to concentrate if my opponents were girls in such tight tricots") to more complicated matters ("Forcing men and women together excludes people whose religious views prohibit having mixed-gender competitions"). However, in every case the main argument seems to be: Due to physical differences, women cannot compete with men in sports.
Interestingly, this argument seems to be brought forward out of completely different motivations. Gender segregation is promoted both by rather conservative people who see women as fragile beings and by women's rights activists who see segregation as a way to achieve fairness. Whichever the motivation behind the "physical differences" argument may be, we can ask if it is a good argument.
It is certainly true that women on average have less physical strength than men and that a mutual competition would lead to only very few women having a chance to win in disciplines like Weightlifting or Athletics – probably even if we more widely introduced different divisions in height and weight. However, it would allow those few women to participate in tournaments that are more prestigious and better paid.
Moreover, in many disciplines physical predispositions are not the key factor for success, for example in Bowling, Darts or Pool Billiard. On average, women currently perform worse than men even in those disciplines. However, this might be mostly due to environmental factors like less women taking up these sports and being less encouraged and promoted. In the long run, suspending the gender segregation might lead to men dominating certain disciplines and women establishing themselves as leading in others. This would be similar to what we can now observe with regard to black and white sportspeople. Blacks athletes tend to dominate Running, whereas whites tend to dominate Swimming. However, people do not propose to segregate disciplines by skin colour – with good reason.
"Physical differences should not count at all" is not a suggestion I want to make here. Such a rule would rob certain groups of the equal opportunities they fought for, e.g., because it would challenge the Paralympic Games as a stand-alone sports event. I regard it as fair to create equal opportunities in sports rather than to aim for equal performance. But how can opportunities be created that are really equal (also in terms of popularity and payment) in the case of men and women? Is gender segregation the right way to go here?
13 Responses to Should Men and Women be segregated in professional Sports?
In my mind the fact of whether or not men are currently better at a given sport is not grounds to segregate, but whether or not women have the potential to beat them is. If there is no reasonable potential for elite female athletes to beat elite male athletes in a given event (and taking andronising hormones to achieve this is a bit of a confounder, but let's assume equal access to the drugs for all competitors) then having them compete is simply not fair. So the the real question for me is, how do you best assess whether men would have a biological advantage in the sport that could not be overcome? If you can prove they do, then segregation is probably the right choice. I must also say however, that this advantage is probably often assumed more than proven.
One data point on the "biological advantage issue": I believe there are currently no events in Track and Field where the women's world record holder has achieved the men's Olympic A standard. Therefore "mixed athletics" would not so much be "dominated" by men as result in the complete exclusion of every female athlete from the Olympics*.
* (there may be women who have achieved performances equivalent to men's Olympic "B", Paula Radcliffe's world record marathon springs to mind).
"Blacks athletes tend to dominate Running, whereas whites tend to dominate Swimming. However, people do not propose to segregate disciplines by skin colour – with good reason." I would argue that they do, sort of! In Europe at least, the European Championships fulfill this function to a great extent, allowing white athletes an opportunity to "actually win"; it's my impression that these championships are growing in stature in these European countries compared to the World Championships (where white European athletes don't feature) in running anyway. For example the World Cross Country has been recently cut back to once every 2 years and is on borrowed time, whereas the Euro Cross-Country remains yearly and is at no such risk of cancellation.
I had a suspicion that there would be data to back up a biological advantage, I just didn't have any on hand. I suppose some would argue that the reason the women have never beaten the men is that they have never had to compete with them, and since it is thought impossible then it is never achieved. However for me the bigger issue isn't whether or not to segregate, but rather why society views the women's league as second-rate. It is definitely "the other league" and you certainly don't hear men complaining that they aren't allowed to compete in the women's league. In games like tennis it is said to be less prestigious because the women can't hit as hard, run as fast or play for as long, so the audience tends to like it less. However this can't be true for all sports.
If women are actually not able to beat men, then combining the leagues won't do anything but dilute the achievements of the female athletes, as only the very best could still compete. Besides, if we are trying to promote equality for the leagues, rather than "allowing" women to play the men, we should be considering something like developing a separate mixed league. This would imply the gender leagues are otherwise equal, show a more realistic ranking without forcing a lot of the female sports women out of their livelihood. And who knows, if it turns out after a few years that the women are generally able to compete with the men, then maybe the gender division could be removed.
This argument is stupid of course men are stronger faster more able athletes. And the reason woman don't get paid as much is because there is not as much interest in sport from women. If women were to compete against men they would hardly ever win probably never in physical sports. I think we should celebrate are differences and keep it just how it is for the benefit of women
Part of the problem, I believe, is that while the very best female sportspeople are equivalent in achievement to the very best male sportspeople, the depth in many womens' sports is much poorer than that in men's (other than in the traditional "female sports"). To draw on athletics again (easy to demonstrate things as figures are readily at hand), the women's olympic marathon qualifying mark is 21.5 minutes slower than the women's world record; the men's mark is 11.5 minutes slower than the WR. If you pick any running race the length of time between 1st and 10th will nearly always be much greater for women than for men. It's harder to prove this for other sports but I believe the trend often holds; the very best female soccer players may have reached an equivalent level of accomplishment to the best males, but the same is most likely not true for the 100th best players.
However, with more equal levels of participation of women in sports and the throwing out of old-fashioned "women shouldn't train as hard as men" ideas (women weren't allowed to run above middle distances in the olympics until 1984) this should hopefully correct itself, and hopefully result in greater popularity of women's sports.
Thank you very much, Steve and Sean for your interesting comments!
I am thinking about two things, and I would very much like to hear your opinion on that:
1) Might it be a solution to force the (now male) leagues to include a certain fixed quota of women?
2) How about the disciplines where skill is more important than physical strength? Why are these disciplines (like Golf and Bowling) segregated? It's mainly for historical and economic reasons, I reckon. Shouldn't those be gender-mixed, at least?
Firstly I'll address 2, since it is easier. Probably they were initially separated for historical reasons, and now could afford to be mixed. The only problem I can see is that in a lot of technique sports strength still does play a part, like how far you can hit the ball in golf, or how much power you can knock down pins with in bowling (a heavier ball and stronger throw will knock down more pins, watch one of those devices that rolls the ball for kids to see the proof). However let's assume this advantage can be overcome or is not that great, there is still the fact that the genders are often separated for "their (being the women's) safety. I know in schools the sports aren't separated when you are younger, but only once it is deemed the boys will begin playing rougher. This is another societal view, though some also say it is because women develop breasts around this time and since they don't usually wear breast plates it's unsafe for them to play mixed sports. Though I am not sure how valid that is.
As for your first point, I would say no. I seem to be sounding like much more of a feminist than I actually am, but forcing that isn't equality. It implies that the male league is superior (as is there a quota for men in the women's league?) and also it is stating that women need a handicap to play in the same league. If you were to completely mix the two leagues MAYBE it would be fairer to have a quota for women in the championships for the first few years, but in general either women are able to compete at the same level as the men, so don't require a quota, or they aren't, and the leagues shouldn't be mixed.
A further element worth considering is the fact that what a "man" and a "woman" is, is often less easy to discern than one could think. Consider the case of Caster Semenya and of the many other athletes who might happen to have high level of testosterone (which is nowadays the key element to determine one's sex, since the external look might not correspond to the internal functioning of one's body, with dormient testes, etc.). An interesting link: http://www.thedailybeast.com/articles/2012/07/26/caster-semenya-and-the-ioc-s-olympics-gender-bender.html
Thanks for sharing the link, Elisa!
Elisa, as for the case you raised about the difficulty in seeing gender as binary, see also here: http://genegeek.ca/what-is-fair-in-the-olympics-is-sex-a-special-case/
Thank you, Nadira. A really interesting article which adds fuel to the general problem: why is the men/women distinction more fundamental than any other? More in general, much could be achieved in favour of better sporters throughout the genders if parents/trainers were not to look at their daughters/trainees as less likely to have success than their "male" counterparts (and consequently, to invest less resources in them).
This would be the worst thing that could happen to women's sport.
I am reminded of what happened when the Williams sisters boasted about how they could beat any man ranked outside the top 200… a half-drunk Kaarsten Braasch beat them both 6-1 6-2.
http://tt.tennis-warehouse.com/showthread.php?t=21533
The author of this article does not know what he is talking about. There are no "a few" athletes or weightlifters who can compete with men. There are no one.
Recent Posts
Event Summary: New St Cross Special Ethics Seminar: Should people have indefinite lifespans? Ethical and social considerations in life-extension, Professor João Pedro de Magalhães
On Grief and Griefbots
Is Animal Liberation Speciesist?
Cross-post: Fairness and Freedom in Public Health Policy – On the need for a Humanities-based approach to public health policy
Playing the Game of Faces with AI
Popular posts
If you're a Conservative, I'm not your friend
Rethinking 'Higher' and 'Lower' Pleasures
What if schizophrenics really are possessed by demons, after all?
7 reasons not to feel bad about yourself when you have acted immorally
Recent Comments
Paul Van Pelt on Playing the Game of Faces with AI
Paul Van Pelt on Event Summary: New St Cross Special Ethics Seminar: Should people have indefinite lifespans? Ethical and social considerations in life-extension, Professor João Pedro de Magalhães
Cole Haynes on Is Animal Liberation Speciesist?
Joseph Moore on Is Animal Liberation Speciesist?
Neuroethics
Organ Transplantation
Pandemic Ethics
Pharmaceutical Industry
Professional Ethics
Public Health
Reproductive Technologies
Research Ethics
Synthetic biology
Affiliations
Entries RSS
Comments RSS
WordPress.org
Entertainment
Environment
Information Science and Technology
Social Issues
Home Essay Samples Sports Women in Sports
Should Sports Be Segregated by Gender
Table of contents, the case for gender segregation, challenging stereotypes and breaking barriers, promoting inclusivity and equality, practical considerations and individuality, striking a balance.
Adler, L. L., & Adler, P. A. (1987). Role Conflict and Identity Salience: College Athletics and the Academic Role. Social Psychology Quarterly, 50(3), 217-228.
Kane, M. J., & Krane, V. (1990). The Gender Gap in Sport Performance: Equity Influences Equality. Sociology of Sport Journal, 7(4), 281-302.
Kremer, J. (2006). Gender and International Differences in Participation and Performance. International Review of Economics & Finance, 15(3), 368-379.
Shields, D. L., Bredemeier, B. L., LaVoi, N. M., & Power, F. C. (2015). The Sport Behavior of Youth, Parents, and Coaches: The Good, the Bad, and the Ugly. Journal of Research in Character Education, 11(1), 1-17.
Snow, K. M. (2020). Sporting Gender: The Lives and Careers of Women in Sports. University of California Press.
*minimum deadline
Cite this Essay
To export a reference to this article please select a referencing style below
Student Athletes
Athletic Shoe
Related Essays
Need writing help?
You can always rely on us no matter what type of paper you need
*No hidden charges
100% Unique Essays
Absolutely Confidential
Money Back Guarantee
By clicking "Send Essay", you agree to our Terms of service and Privacy statement. We will occasionally send you account related emails
You can also get a UNIQUE essay on this or any other topic
Thank you! We'll contact you as soon as possible.

Women Should Not Play With Girls And Sports In Sports?
Sports Gender Segregation Do you think women should play with men professionally in a sport? Although people may believe that women should be treated equally with men when it comes to certain things, but when it comes to sports it is totally different. Sometimes sports are not always played for fun. Sports take a real big part on the competitive side. Some may argue that girls can play a sport better than boys, people think that girls should play with the boys because they should be treated equally. Opponents argue that girls should not play with boys because women are not as athletic or physically strong as a man. People have not thought about a woman 's physical being …show more content…
Boys get serious and sometimes cannot control how they act on the field, court, or mat. That is why they should just make all sports a girl and a boy sport, so it can be same gender teams around the US, so that girls can do what they love, and not have to worry about not being able to play a sport, just because it is a boy sport. A girl that wrestled in high school had to lose 20 pounds, just so it would not be so hard to equal with the boys she would be wrestling.(Rippey). She wanted to wrestle a smaller opponent. She should not have to do that just for a sport that she loves. Boys gain upper body strength as they go through high school and that is what she struggled with. If girls played with boys it is a greater chance of an injury. Girls should compete with the same gender and compete close with the same size opponent. "Giorgio said she never felt the pressure of being out of place as a girl competing in a boys sport"(Rippey). You should not have to do this just to become a female wrestler. She should not have to feel this way just because they put a title on sports, but she should have been aware of the consequences before she started. They should have wrestling for girls in middle and high school not just college. At Least try to make it fair to …show more content…
They should have every sport that is considered a boy sport for women too. So no, personally myself do not think women should play with men professionally. Even though women should be treated equally in the world to men they still have no spot on a mens team. Women could get hurt by playing with men because men have different genes that makes them be able to jump higher than girls and etc. They should never call a certain sport a boy sport. They should just be fair and make every sport that is considered a boy sport into a girl sport so they could have the opportunity to play too. Women can sometimes even play a sport better than men can. It is not about the gender playing the sport, but about the potential they put into the sport. If women could play like men it probably will still be a big deal about why women cannot play with men. Men adrenaline is way different than a woman's. Men cannot help the way they take a certain situation in a sport. Once they feel that rush its a different story for them. When a ref blows his or her whistle at a foul him or his opponent committed his adrenaline starts to pump, the same situation goes if he makes a shot. Then both teams start going at it, competing even harder. Can you imagine a girl being in the midst of that? Women also have adrenaline but the trouble it causes is no where near, compared to
In this essay, the author
Opines that women should be treated equally with men when it comes to certain things, but sports take a big part on the competitive side.
Argues that girls should not play with boys because women are not as athletic or physically strong as a man.
Opines that women should have the chance to play with males, but only if they knew the consequences. girls are 6 times more likely to quit sports by age 14; boys mature at 14-15.
Recommends making all sports a girl-and-a-boy sport, so that girls can do what they love, and not have to worry about not being able to wrestle with the boys.
Explains that athletic men are more aggressive than athletic women, which is why the topic of whether women should play with men professionally is no question.
Opines that women should not play with men in any sport because of serious injuries it can cause. they should have every sport considered a boy sport for women too.
Opines that people prefer to see men play a sport than women, since they think that men are more athletic. women sports can be just as exciting with close scores and going overtime.
Click here to unlock this and over one million essays
Men and Women in Nontraditional Sports as Portrayed in Film
Women and men play various sports because they as Americans want to experience the excitement of playing for fun, and doing something they love. The idea of what men and women can do for fun in sports has been shaped by the American society in many different ways through the media, schooling and education, and professional sports organizations. America portrays women playing field hockey and doing synchronized swimming while men do boxing, and body building. If a woman chooses to do boxing because to her it is fun and if a man chooses synchronized swimming because he likes it, they face many cultural costs and benefits of choosing this sport. Society does not like change and holds female athletes up to ideals such as being beautiful, graceful, and healthy. Male athletes are held to ideals such as strong, aggressive, and powerful. People who choose to play non-traditional sports risk being judged by society as unnatural and homosexual, instead of being viewed as an athlete who is special and unique, they are often subjected to unwanted sexual advances and assumptions. The benefit of doing an untraditional sport is that you are able to do something you love. As a result of people who do non-traditional sports, they open the doors for future generations of women and men who might want do play an non-traditional sport.
Sports History Related to Gender: Annotated Bibliography
Evidence still shows that as a society we are still far more comfortable with women being involved in the traditional sports such as field hockey rather than boxing and men participating in sports such as rugby rather than synchronized swimming this is because they are pre conceived as " NORMAL" for a specific gender.
Equality for Women A Critique of 'Why Sports is a Drag' by Dave Barry
Women should have the right to participate in any sports activity they choose. However, that right should not interfere with the less athletically challenged members of the male gender. As the male species attempts to continue following that inner voice that is so bluntly saying men are the more athletic gender; nobody can dispute that point.
Individuals Entering Non-Traditional Roles in Sports
Sports provide an amazing outlet for people of all ages. It has been proven that sports help focus and concentration as well as improving ones physical state. It is a beneficial pastime that all should be allowed to enjoy. Up until that age of 12-13 both genders are invited and welcomed to play sports. After this point something changes, it is not really talked about but pressure is effectively applied and society somehow manages to push people into very gender orientated and gender specific sports. The question is, what happens when someone doesn't succumb to the pressure and actively participates in what it referred to as a non-traditional role in a particular sport? This idea applies to both sexes, not just females. We are talking about how society reacts when women compete in body building competitions and when men become figure skaters. I believe that the root of our problem lies within the biases of our society.
Pumping Iron: Women and Sports
Ever since sports has been introduced into our society it has always been gender specific. Today, sports are still gender specific but not as much as before due to the change in social norms. Many people enjoy playing sports. For some it may be the competition, for others it may be for the love of the game. It has been difficult for individuals who enter non-traditional sports for their gender. Women have especially struggled with this matter until the Title 9 was issued. Before Title 9, many women were not allowed to participate in track and other sports that were not considered feminine. During the Victorian Times, women were only allowed to play sports that didn't make them look sweaty, tired or just messy. They had to stick to the norm of being conservative and looking proper. Can you imagine, they had to even wear skirts for baseball and other sports? How can you be comfortable and play well in that kind of an outfit? When it came to tennis, they had to look graceful like a ballerina. The main concern in playing a sport is enjoying it and playing it well. It never had to do anything with being part of a beauty contest. Women were given limitations into what sports they could participate in. However, realistically women were just as good as their counterpart when it came to playing sports in which they were not allowed to play.
Traditional Female Roles: The Traditional Gender Role In Sports
Women have forever had this label on their back of being too small, too weak, too feminine, and too boring. The traditional gender roles of the female interfere with the extortionate nature of competing in sports. Men are usually the ones to go 100% and give whatever they got, and to show masculinity while doing it. The standard masculinity of being strong, smart, and taking charge over dues the feminine traits of being soft, gentle, and polite. That's what society has taught us to learn and accept. But the traditional female gender role is diminished when participating in athletics and people may think it's weird to see females compete at the same level as males do. Men have always had the upper hand in the professional, collegian, and high
The Lack of Women's Sports Coverage
Throughout history, women have had to struggle for equality in all elements of  our society, but no where have they had a more difficult time than in the area of athletics.  Sports is a right of passage that has always been grafted to boys and men.  The time has come for our society to accept women athletes and give them the attention they deserve.
The Gender of Sports
The biggest thing that creates a social and cultural cost in the world of sports is change. People have a hard time coping with a change in the norm, especially when people are not welcome still to this day that women play sports. So as soon as a man/woman wants to do something different, there will always be controversy that will include harassment of the individual from sexual orientation to class, or simply what this change could do to the particular sport in the long run. A man entering a "women's" sport is very different than a woman entering a "man's" sport. There is more praise given to a woman entering a male-dominated sport and more disapproval given to a man entering a female-dominated sport. For example, when the ABL and WNBA, particularly when the WNBA, started up, many people questioned whether women could play professionally and handle the pressure of living up to the NBA. As soon as commercial ads came out for the WNBA league, it was done in a fashion to show that the WNBA did consist of straight women and it was not a league for...
Media Coverage Of Women's Sports
female athlete was still considered to be passive and weak, some would say women's sports is a waste of time because women aren't supposed to be playing sports because of the original stereotypes that woman are too feminine and too easy going to actually be a dominate figure in their sport.
Should Female Athletes Be Paid The Same As Male Athletes?
In summary, Despite opponents argue, fans want to see thunderous dunks and incredible athleticism over the lesser abilities of females, male competitions is more intense and there is more at risk, and male driven associations produce more revenue than female driven associations. It is apparent that male and females are built differently therefore they have different abilities, females go through the same types of events and often have more on the line, and female athletics aren 't given the same recognition or praise. Then, maybe one day female will receive the same amount of pay as their male counterparts. As, Vera Nazarian once implied, "A woman is human. She is not better, wiser, stronger, more intelligent, more creative, or more responsible than a man. Likewise, she is never less. Equality is a given. A woman is human."
Persuasive Essay On Women In Sports
At the peak, female players and sports has little publicity and smaller crowds. The general public has little to no desire to partake in female sports. This isn't about equality. It's about what people want to see and they want to see all-male teams perform at the highest level.Teams would struggle to coexist with women in the same organisation. For example, they would have to invest in private changing and shower areas. Small team organizations couldn't maintain sufficient funds to accommodate this. Take into consideration, at the professional level where players usually earn millions every year with extensive contracts, females might have to take a leave of absence from 9 months to however long to raise and care to a new-born. Which is normally the length of a season or long enough to cause a big impact in their careers. In female sports there would be other female players to cover another for maternity leave, but if it were mixed up with male sports, over time general managers would start to sign extensive contracts to males and short ones to females due to longevity of careers. Taking in all the aspects about biology, economy, and desire into perspective there's no validating reason why any team consisting of men and women would be better off than having separate teams. It would fulfill the much seeked out desire for equal rights, but we must not ignore the basic deviations that make women and men so
Should girls play on boys' sports teams?
In the world of sports it started off that girls could never play sports and then in 1972 a public law called Title IX came to existence which allowed girls to play sports but not with boys. Today the question is asked should girls play on boys' sports teams? One would think that girls should not play with boys on a sports team because boys are just naturally taller and stronger than women and they would dominate the girls in a fully contact sport. Another may think that if a girl is truly capable to play on an all boys' sports team, then she should not be denied the opportunity to try out for an all boys' team. Some other people may believe that sports at younger ages should remain co-ed because boys and girls body types are still similar, but once boys and girls are in high school sports should separate based on gender. Females and Males are equal but not in physical stature, having a girl on an all boys team will negatively change the dynamics/flow of a game, having the best girl player on an all boy's team will hurt the girls' sports teams. So sports should strictly stay separated between males and females.
Gender Equality In Sports
Gender in sports has been a controversial issue ever since sports were invented. In the early years, sports were played only by the men, and the women were to sit on the sidelines and watch. This was another area of life exemplifying the sexism of people in which women were not allowed to do something that men could. However, over the last century in particular, things have begun to change.
History of Women in Sports
For most of human history, athletic competition has been regarded as an exclusively masculine affair. Women weren't aloud to watch most sporting events let alone participate in them. Not till late 19th century did women really begin participating in sporting events. Although women were permitted to participate in many sports, relatively few showed interest, for a variety of social and psychological reasons that are still poorly understood. Title IX declares: "No person in the U.S. shall, on the basis of sex be excluded from participation in, or denied the benefits of, or be subjected to discrimination under any educational program or activity receiving federal aid." Therefore sex should not deem females athletic ability as inferior in comparison to men. Women are physically, mentally, and emotionally capable of playing any sport just as men are.
Female Participation In Sports Essay
Ann, 2007, pg. 57), however this is not true. This mentality causes males to resent the female athletes, thus rendering it even more difficult for them to succeed. Without a shift in gender ideology, females will continue to face adversity, regardless of the amount of change that has occurred over the last 30 years. There does not need to be equality between the genders within sports, however equity must be seen, with the perception of the abilities that female athletes possess not being compared to that of males. This would aid males to not feel as threatened by females participating in sports and physical
More about Women Should Not Play With Girls And Sports In Sports?
Related topics.
Gender Segregation In Professional Sports
Show More Professional sports are sports in which athletes receive a disbursement for their performance ("Definition of Professional Sports in English" 1). Professional sports originated in the United States during the mid-nineteenth century. According to the article "Beginning of Organized Sports in America," this distinctive league was "formed on capitalistic ideas" and soon developed into a nationwide phenomenon. Sports play a substantial role in cultures across the globe. In America, the success of professional sports is frequently ascribed to their reflection of societal values; which attempt to define the moral and ethical ideals attributed to a society. Despite the success professional sports have had throughout American history, they have also …show more content… The National Association of Sports Officials (NASO) claims that men and women professional teams have equal amounts of talent, cooperate budgets dollars, and the favorable media coverage. Contrary to this statement, research provided by Marianne Bhonslay author of "Women For Sale," proves that women 's salaries are still well behind those of professional male athletes. The study recorded in a "Women For Sale" demonstrates that a majority of women 's endorsements and sponsorship agreements total only into the mid-six-figure range for top female athletes. This mid-six-figure range can be anywhere between $100,000 to $600,000. While the total of endorsements and sponsorships agreements for the majority of top male athletes' are double the salaries that women receive. Bhonslay articulates the fact that to this day, "the financial gender gap remains visibly pronounced" (61). Publishers of Gender Equality Women in Sports, Jones and Bartlett once again articulate this sentiment. According to Gender Equality and Women in Sports: "Historically, women have been discriminated against in sports and have not been provided with the same opportunities as men…a vast disparity has existed between men's and women's sports" (489). These statics affirm that through their development, professional sports have authorized gender inequality and segregation. How can these leagues support segregation when …show more content… Sports extend across the dividing lines of age, gender, and ethnicity, allowing the nation to identify with one sport or another. Sports foster relationships, strengthen bonds and even have the power to forge camaraderie and build friendships. Through their participation in sports, people have the ability to make a difference not only in the nation but also in the world. Sports are a universal phenomenon, serving to instill a sense of meaning in many American lives. They can be found to be an imitation of the American culture; they are the reflection of the constantly evolving cultural attitudes and standards. American culture places much value on the impact the athletic profession has on the society. Gender segregation is instilled into the very foundation of professional sports, reflecting an apocryphal American value. Gender desegregation in professional sports can help reshape cultural values and attempt to display the moral and ethical ideals attributed to American culture. Gender integration creates fair and equal opportunities in sports rather than to aiming for equal performance. This author believes that women athletes should be given equal opportunities and salaries. This would lead to a growth of respect for women athletes not only in America but also throughout the
Related Documents
Title ix helping women's sports.
Is TITLE IX helping Women's Sports Why have women joined more sports? Women have joined more sports since 1972 when TITLE IX first started. Title IX states no person in the United States shall, on the basis of sex, be excluded from participation. So it's clear that although some believe it's not helping women's sports. Title IX advances women's sports for two main reasons.…
Gender Stereotypes In Professional Sports
All the way from pewee leagues to professional sports women are stereotyped by society. These stereotypes occur in many different ways, across a wide variety of sports. Between being valued on physical appearance of the body, and less on performance, gender stereotypes clearly exist in sports. In the article "Stereotype threat affects the learning of sport motor skills", by Caroline Heidrich and Suzete Chiviacowsky, the authors explain that the purpose of their study was to discover if women in sports are effected in anyway by sterotypes. They gathered a group of 24 women and divided them into two groups.…
Gender Equality: Gender Inequality In Sports
1. Sports can transform any boundaries real or imagined. A good example is the African Americans not being taught to swim and also when he mentioned that in the past they were not allowed to the swimming pools. 2.…
Long-Term Effects Of Concussions In Sports
Sports have been used for recreational play, entertainment, military training, to help determine power within the community, and to show off skills. Participating in sports successfully, at any level, takes…
Zero-Pay College Athletes
In the United States, the idea of playing sports is ingrained from a young age. With the combination of the education system's gym curriculum and media coverage of many different types of sports, many children will decide at a young age that they want to become a professional athlete. Although many universities offer athletic scholarships for those pursuing a professional sports career, it's often not enough to cover the full costs of a college education. The simple solution would be to pay student athletes, however, the system makes the financial compensation of college athletes illegal. Despite the outdated Victorian amateurism and collegiate discrimination that they face, college athletes have the right to be paid because of the large amount of…
Title IX: Women's Involvement In Sports
(Pauline, 2012) Discusses how women involvement in sports has been the highest in history in today's time. There have been studies on the impact and increased female participation within the past few years. Evidence shows according to (Vivian Acosta, 2014) that 9581 women's intercollegiate teams are found at NCAA schools in 2014, an increase of 307 since 2012; 8.83 women's teams per school are the average offered to female athletics, an increase of 0.10 since 2012 and; 2080 new women's teams have been added to the nation's intercollegiate athletics programs for women since 2000. These results only apply to the United States. International studies might not show similar…
Jackie Mitchell's Participation In Male Dominated Sports
Throughout the past 100 years, gender roles of men and women have started to change greatly in our society, and especially in the world of sports. Recently, female athletes have made great strides in gaining equal representation, and media coverage, in comparison to the past, where there was little coverage of female athletics. In addition, women have begun to participate in many sports that have previously been male dominated. Some of these sports such as MMA, and hockey have been perceived as "manly" sports, and many feel that women should not participate in them due to their physically demanding nature. However, even though many female athletes have been discouraged from participating in male dominated sports, women have continued to break…
Inequality In Sports
If people were not brought up to watch the numerous amounts of male sports televised on television, then the inequality towards women would not be a subject to address. We have to blame ourselves for not showing interest in women's sports (Flanagan 2). Women should be paid the same for their talent and hard work. Men are often known to be providers of their families. But today, women have moved into this role and are competing with men.…
Bob Simon Analysis
Simon refers to the female athletes as "the daughters of the Title IX revolution: young women who are running and swimming their way through college, often with the help of athletic scholarships." 2. He explains that "like generations of male athletes before them, many [females] have turned pro, like the members of the U.S. women's soccer team, which won the World Cup in 1999." C. While women have been making giant strides, hundreds of men's teams have been eliminated – and the men say that trails back to Title IX. 1.…
Essay On 1970s Sports
Rohrbaugh (1979). Sports are good as long as the equality between all sexes and races are the same, and there aren't problems with the government and money. Ali won two of three matches against Frazier. Baseball in the 70's had good things happen with the free agency being legalized, and Pete Rose winning…
Diversity In Sports
I truly realized how much women are underrepresented on all levels in the sector that Ellen Staurowksy observed. This underrepresentation is all do to with how women are perceived. For example, in Janet Fink's interview, she states that "when women engage in these masculine or male dominated behaviors, like being aggressive or independent or self-confident, they are evaluated less favorably than men because those behaviors do not match how we have been trained to view women" (34). Sports organizations need to start working harder to breakdown the barricades for women. Women have proven to be extremely successful in sports organizations once they are finally given the chance.…
Pigtails Not Pigskins Analysis
Pigtails not Pigskins Men and women are separated due to gender roles and stereotypes that proceed throughout one's life in many different ways. These situations include but are not limited to some of the following: common color associations, movie genres, hobbies, vehicles, restrooms, hair or clothing styles, and most importantly professional sports. If uniformed women are able to stand next to men in combat, they should also be able to stand next to men in uniforms on the football field and play on any other sports teams without segregation. Stereotypes and gender norms have impacted the separation between men and women in all sports greatly. Pat Griffin comments that sex segregation in athletics and professional sports "does not reflect…
Pay Of Women In Sports Essay
BULLETED OUTLINE THESIS: Female athletes are awarded less prize money as a result of fewer opportunities in the sports industry. • The media coverage of female sports is significantly lower than men's sports. • There is inadequate funding of women's sports. • Sport organizations are typically made up of male executives.…
Gender Equality In Sports Essay
Outside of the educational aspects of gender equality, many professional sports teams are a part of this mistreatment. Women in order to be treated as equals, men need to see them as equals. For example, men are offered bigger income checks at the end of the year if they play sports. Many people's opinions across the world have been that women are too fragile to play in male dominate sports. This unequal…
The Role Of Gender Stereotypes In Sports
Sports play a key role in the preservation of society. Although sports have brought people together through competition and celebration, it has also brought up many controversies as well. Inequality between men and women is evident throughout various aspects of sport, whether it is physical, financial or social forms of physical activity. Looking at this inequality also plays a role on the ability to excel through sport for females and males. In today's society, girls fail to grow in athletics due to genetic limitations of the female body, salary controversies, and stereotypes about female athletes.…
Related Topics
Professional sports
Amateur sports
Ready To Get Started?
Create Flashcards
Mobile apps
Facebook
Twitter
Cookie Settings
Yes, Men's and Women's Sports Should Be Separated
Recently in the atlantic, maggie mertens declared that "separating sports by sex doesn't make sense."   as long as equality means sameness and exceptions disprove created norms, we can expect headlines to only become more and more absurd, reflecting even more creative mental gymnastics., john stonestreet shane morris.
John Stonestreet
Shane Morris
It is not uncommon in mainstream opinion writing for an author to make an absurd claim and spend several paragraphs of mental gymnastics justifying it. A more accurate label for this genre would be "ideological writing." If the facts don't fit, twist and turn them and pretend they do.  
If that analysis sounds harsh, consider a recent opinion column that makes a claim in spite of all evidence to the contrary. Recently in The Atlantic, Maggie Mertens declared that "separating sports by sex doesn't make sense."   In it, Mertens wrote:   
Maintaining this [male-female] binary in youth sports reinforces the idea that boys are inherently bigger, faster, and stronger than girls in a competitive setting—a notion that's been challenged by scientists for years. 
She went on to claim, "Decades of research have shown that sex is far more complex than we may think." And though she admits that "sex differences in sports show advantages for men," she quickly insisted that "researchers today still don't know how much of this to attribute to biological difference versus the lack of support provided to women athletes to reach their highest potential."  
To call this article a conclusion in search of evidence is too kind. At the heart of Mertens' proposal is the same argument that is at the heart of third-wave feminism and the transgender movement. More accurately, it is a belief that equality means sameness, and that men and women therefore must be interchangeable, no matter what the evidence suggests. There is also an unacknowledged assumption that power or status equals value.   
Even more, there is a failure to recognize (or perhaps to ignore) created norms. In Mertens' view, if any woman is bigger, faster, or stronger than any man, sex differences must not exist. This is kind of like saying if any day in Alaska is hotter than any day in Florida, there's no difference between the two climates.   
Do these claims match the evidence? Recently, Duke Law compiled a helpful analysis that illustrates the reality of biological sex in sports and, in the process, inherent differences between males and females. Drawing on data from the International Association of Athletics Federations, researchers compared the performance of the best female athletes in the world across 11 track-and-field events with the performance of men and boys. The resulting gap was, to use their word, "insurmountable."    
In every event on thousands of occasions, men exceeded women's results. In fact, boys under 18— we're talking high schoolers—regularly exceeded the world's best women's results. In the vast majority of occasions, the fastest, highest endurance, most agile women in history would not have even qualified to compete.   
In more strength-based events, such as Olympic weightlifting, the difference between the sexes is more pronounced. One paper by Princeton University's health and fitness coordinator concluded that even if men and women were the same size and weight, men would have 30-40% greater upper-body strength than women. As another colorful analysis highlighted in National Review put it , "without sex-segregated sporting categories," the strongest female weightlifter the world has ever seen "would be a footnote in history."  
Citing several studies about the impact testosterone has on the male body from the womb , the Duke Law analysis concluded that "this differential isn't the result of boys and men having a male identity, more resources, better training, or superior discipline. It's because they have an androgenized [male] body."  
To borrow Mertens' terms, boys are "inherently bigger, faster, and stronger than girls" in the overwhelming majority of cases. What we're dealing with is not social conditioning or discrimination, but a created norm, the kind of thing that makes a great deal of sense to structure our lives, homes, militaries, and athletic events around. The so-called "segregation" this Atlantic piece attacks isn't an imposition but a recognition of the way God made us. As female athletes who have been forced to compete against biological men in recent years repeatedly tell us, no one benefits from recognizing that difference more than women!  
As long as equality means sameness and exceptions disprove created norms, we can expect headlines to only become more and more absurd, reflecting even more creative mental gymnastics. At least in that ability, the sexes are interchangeable.   
gender differences Professional sports Sports The Atlantic
Have a Follow-up Question?
Related Content
Empower more believers with a courageous faith in 2024!
Join this learning experience and discover why the Church is still essential, not only for Christians, but also for the world
Your generosity fuels our programs, podcasts, and events, and enables us to help more Christians live with courageous faith in this time and place.
© Copyright 2020, All Rights Reserved.
All Audio Breakpoint: Podcast Breakpoint This Week: John Stonestreet The Point: 60 Seconds Find BP on the Radio
Articles Subscribe All Columnists John Stonestreet G. Shane Morris Glenn Sunshine
Online Courses --> Colson Fellows
The Colson Center Staff Board of Directors Request a Speaker
Colson Fellows Wilberforce Weekend What Would You Say?
Colson Center Store
Sign up for the Daily Commentary