Academic writing
Commonly confused words
Critical thinking
PEEL Paragraphs
Linking/transition words
Paraphrasing
Proofreading
Terms and definitions
Action Words: What is description, application, analysis and evaluation
Linking/transition words: Things you need to know...
All assignments are written in formal language. You need to ensure that you demonstrate your knowledge and understanding alongside your ability to answer the question/solve the problem.
Below are some ideas to help you to develop your structure and flow.
Linking / transition words and phrases join ideas, sentences and paragraphs together. They should be used within sentences and to move from one idea to another (between sentences).
These words and phrases indicate the direction, order and flow of ideas. Significantly, they strengthen the quality and structure of your work.
Redundant Words - less is more. P articularly when trying to reduce the word count, it is important to look for phrases which can be replaced with a single word.
Linking/Transition Words
Transitions link one main idea to another separated by a semi-colon or full-stop. When the transition word is at the beginning of the sentence, it should be followed by a comma:
Among other functions, they can signal cause and effect or sequencing (see examples in the table below).
Linking words: conjunctions
Linking words within a sentence are referred to as coordinating conjunctions. Do not worry about the term: think about the function.
Conciseness / redundant words
Microsoft Word now has an additional feature within the Edito r - it is called conciseness or wordiness.
If you cannot see the Editor menu a quick tip is to hold down the function (fn key at the bottom left of the keyboard) + F7 (top line of keys).
From the Refinements section - select Conciseness - if there are any suggestions a number will appear in the box alongside this option
A dotted line will appear under any groups of groups
Either select the identified text by clicking with your right mouse button OR click on the down down next to the Conciseness menu.
MS Word will display any alternative words which you can either select and they will be replaced in your text or reject if you want to keep the original phrases.
Examples: try to replace phrases with a single words which mean the same.
Need to know more...
Related pages
External links
Academic writing Illustrates the main features of academic writing so that you are aware of what it is and what it involves
Critical Thinking Academic work involves thinking, not just accepting what you read or are told.
Terms and Definitions Important words appear in your assignments and examinations. The aim of this factsheet is to help you to fully understand what they mean.
Additional resources to help you to improve your confidence and grades:-
Writing Effectively demonstrates the importance of: clarity, structure, relevance, argument and precision.
Writing Mechanics gives further examples and resources on areas including: sentence structure, vocabulary, spelling, punctuation and grammar.
Linking/Transition words - Scribbr https://www.scribbr.co.uk/syntax/transition-words-examples/ [Accessed 10 February 2023]
There are many books concerning academic writing, look around Dewey number 808
<< Previous: PEEL Paragraphs
Next: Paraphrasing >>
Last Updated: Oct 9, 2023 9:59 AM
URL: https://libguides.staffs.ac.uk/academic_writing
Library and Learning Services, Staffordshire University, College Road, Stoke-on-Trent, ST4 2DE
Accessibility
Library Regulations
Appointments
Library Search
Have a language expert improve your writing
Run a free plagiarism check in 10 minutes, generate accurate citations for free.
Knowledge Base
Academic writing
Transition Words & Phrases | List & Examples
Transition Words & Phrases | List & Examples
Published on May 29, 2020 by Jack Caulfield . Revised on August 23, 2023.
Transition words and phrases (also called linking words, connecting words, or transitional words) are used to link together different ideas in your text. They help the reader to follow your arguments by expressing the relationships between different sentences or parts of a sentence.
The proposed solution to the problem did not work. Therefore , we attempted a second solution. However , this solution was also unsuccessful.
For clear writing, it's essential to understand the meaning of transition words and use them correctly.
Table of contents
When and how to use transition words, types and examples of transition words, common mistakes with transition words, other interesting articles.
Transition words commonly appear at the start of a new sentence or clause (followed by a comma ), serving to express how this clause relates to the previous one.
Transition words can also appear in the middle of a clause. It's important to place them correctly to convey the meaning you intend.
Example text with and without transition words
The text below describes all the events it needs to, but it does not use any transition words to connect them. Because of this, it's not clear exactly how these different events are related or what point the author is making by telling us about them.
If we add some transition words at appropriate moments, the text reads more smoothly and the relationship among the events described becomes clearer.
Germany invaded Poland on September 1, 1939. Consequently , France and the United Kingdom declared war on Germany. The Soviet Union initially worked with Germany in order to partition Poland. However , Germany invaded the Soviet Union in 1941.
Don't overuse transition words
While transition words are essential to clear writing, it's possible to use too many of them. Consider the following example, in which the overuse of linking words slows down the text and makes it feel repetitive.
In this case the best way to fix the problem is to simplify the text so that fewer linking words are needed.
The key to using transition words effectively is striking the right balance. It is difficult to follow the logic of a text with no transition words, but a text where every sentence begins with a transition word can feel over-explained.
Prevent plagiarism. Run a free check.
There are four main types of transition word: additive, adversative, causal, and sequential. Within each category, words are divided into several more specific functions.
Remember that transition words with similar meanings are not necessarily interchangeable. It's important to understand the meaning of all the transition words you use. If unsure, consult a dictionary to find the precise definition.
Additive transition words
Additive transition words introduce new information or examples. They can be used to expand upon, compare with, or clarify the preceding text.
Adversative transition words
Adversative transition words always signal a contrast of some kind. They can be used to introduce information that disagrees or contrasts with the preceding text.
Causal transition words
Causal transition words are used to describe cause and effect. They can be used to express purpose, consequence, and condition.
Sequential transition words
Sequential transition words indicate a sequence, whether it's the order in which events occurred chronologically or the order you're presenting them in your text. They can be used for signposting in academic texts.
Transition words are often used incorrectly. Make sure you understand the proper usage of transition words and phrases, and remember that words with similar meanings don't necessarily work the same way grammatically.
Misused transition words can make your writing unclear or illogical. Your audience will be easily lost if you misrepresent the connections between your sentences and ideas.
Confused use of therefore
"Therefore" and similar cause-and-effect words are used to state that something is the result of, or follows logically from, the previous. Make sure not to use these words in a way that implies illogical connections.
We asked participants to rate their satisfaction with their work from 1 to 10. Therefore , the average satisfaction among participants was 7.5.
The use of "therefore" in this example is illogical: it suggests that the result of 7.5 follows logically from the question being asked, when in fact many other results were possible. To fix this, we simply remove the word "therefore."
We asked participants to rate their satisfaction with their work from 1 to 10. The average satisfaction among participants was 7.5.
Starting a sentence with also , and , or so
While the words "also," "and," and "so" are used in academic writing, they are considered too informal when used at the start of a sentence.
Also , a second round of testing was carried out.
To fix this issue, we can either move the transition word to a different point in the sentence or use a more formal alternative.
A second round of testing was also carried out.
Additionally , a second round of testing was carried out.
Transition words creating sentence fragments
Words like "although" and "because" are called subordinating conjunctions . This means that they introduce clauses which cannot stand on their own. A clause introduced by one of these words should always follow or be followed by another clause in the same sentence.
The second sentence in this example is a fragment, because it consists only of the "although" clause.
Smith (2015) argues that the period should be reassessed. Although other researchers disagree.
We can fix this in two different ways. One option is to combine the two sentences into one using a comma. The other option is to use a different transition word that does not create this problem, like "however."
Smith (2015) argues that the period should be reassessed, although other researchers disagree.
Smith (2015) argues that the period should be reassessed. However , other researchers disagree.
And vs. as well as
Students often use the phrase " as well as " in place of "and," but its usage is slightly different. Using "and" suggests that the things you're listing are of equal importance, while "as well as" introduces additional information that is less important.
Chapter 1 discusses some background information on Woolf, as well as presenting my analysis of To the Lighthouse .
In this example, the analysis is more important than the background information. To fix this mistake, we can use "and," or we can change the order of the sentence so that the most important information comes first. Note that we add a comma before "as well as" but not before "and."
Chapter 1 discusses some background information on Woolf and presents my analysis of To the Lighthouse .
Chapter 1 presents my analysis of To the Lighthouse , as well as discussing some background information on Woolf.
Note that in fixed phrases like "both x and y ," you must use "and," not "as well as."
Both my results as well as my interpretations are presented below.
Both my results and my interpretations are presented below.
Use of and/or
The combination of transition words "and/or" should generally be avoided in academic writing. It makes your text look messy and is usually unnecessary to your meaning.
First consider whether you really do mean "and/or" and not just "and" or "or." If you are certain that you need both, it's best to separate them to make your meaning as clear as possible.
Participants were asked whether they used the bus and/or the train.
Participants were asked whether they used the bus, the train, or both.
Archaic transition words
Words like "hereby," "therewith," and most others formed by the combination of "here," "there," or "where" with a preposition are typically avoided in modern academic writing. Using them makes your writing feel old-fashioned and strained and can sometimes obscure your meaning.
Poverty is best understood as a disease. Hereby , we not only see that it is hereditary, but acknowledge its devastating effects on a person's health.
These words should usually be replaced with a more explicit phrasing expressing how the current statement relates to the preceding one.
Poverty is best understood as a disease. Understanding it as such , we not only see that it is hereditary, but also acknowledge its devastating effects on a person's health.
Using a paraphrasing tool for clear writing
With the use of certain tools, you can make your writing clear. One of these tools is a paraphrasing tool . One thing the tool does is help your sentences make more sense. It has different modes where it checks how your text can be improved. For example, automatically adding transition words where needed.
If you want to know more about AI for academic writing, AI tools, or writing rules make sure to check out some of our other articles with explanations and examples or go directly to our tools!
 Academic Writing
Avoiding repetition
Effective headings
Passive voice
Taboo words
Deep learning
Generative AI
Machine learning
Reinforcement learning
Supervised vs. unsupervised learning
 (AI) Tools
Grammar Checker
Paraphrasing Tool
Text Summarizer
AI Detector
Plagiarism Checker
Citation Generator
Cite this Scribbr article
If you want to cite this source, you can copy and paste the citation or click the "Cite this Scribbr article" button to automatically add the citation to our free Citation Generator.
Caulfield, J. (2023, August 23). Transition Words & Phrases | List & Examples. Scribbr. Retrieved November 3, 2023, from https://www.scribbr.com/academic-writing/transition-words/
Is this article helpful?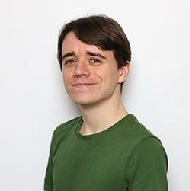 Jack Caulfield
Other students also liked, using conjunctions | definition, rules & examples, transition sentences | tips & examples for clear writing, how to write topic sentences | 4 steps, examples & purpose, what is your plagiarism score.
You are using an outdated browser. Please upgrade your browser to improve your experience.
The Ultimate List of Linking Words for Your Essay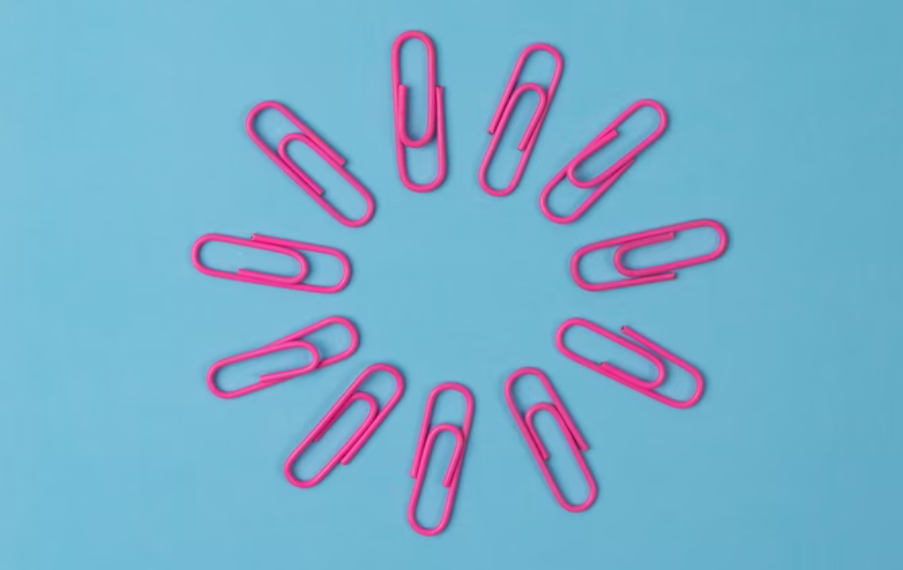 Let's face it: You can't write an essay (or any other writing piece) without linking words.
Also known as connecting words or transition words, they serve to make your writing flow and help those reading your work follow the flow of your thoughts, ideas , and  arguments .
This post is your guide to linking words and their role in writing. Not only will you learn the types of these words, examples, and reasons to use them, but you'll also get a massive list of transition words and phrases as well as linking words PDF to download and use whenever necessary.
Table of Contents:
What are Linking Words?
Why use transition words in essays, linking words examples, addition/agreement/similarity, contrast/contradiction/limitation/opposition, comparison/concession/condition, clarification, cause/effect/result, emphasis/example, generalization, illustration, location/place/space, reason/reference, time/sequence, summary/conclusion/restatement.
The Ultimate List of Linking Words: Download
Linking words are lexical items (words and phrases) we use to connect ideas in writing and get a reader to the next sentence or paragraph.
They aren't about essay writing only:
Whether you write a fiction book,  marketing content , academic works,  autobiography , or poems, you'll need to connect ideas. That's what transition words do:
They link your thoughts and arguments into a chain to show how they relate to each other. Also known as transition words, these phrases often start a sentence or a paragraph. However, you'll also use them in the middle of sentences to bring ideas together.
The most common places for linking words in essays are:
the start of a paragraph
the start of a sentence introducing a new idea or extending an argument 
the beginning of a concluding statement
Essay linking words is an integral part of academic writing. Put it simply, you can't write a paper without using them; otherwise, your writing won't make any sense for readers.
Transition words for essay serve to:
connect ideas in writing
create a flow of thoughts and arguments for readers to understand what you want to say
guide readers from one idea to another, demonstrating how they relate to each other
hook readers  and encourage them to read the next sentence or paragraph
add more information
support or contrast a point
show the result, conclude, demonstrate an effect of this or that point
Using essay maker and connecting words, each sentence and paragraph must pass readers on to the next one. These connecting words serve as an instrument to guide readers from one thought or point to the next.
Linking words examples are many, and it's clear why: every piece of writing contains tons of connecting and transition words. Let's take an essay sample from  Bid4Papers writers  to see the example of linking words in academic writing: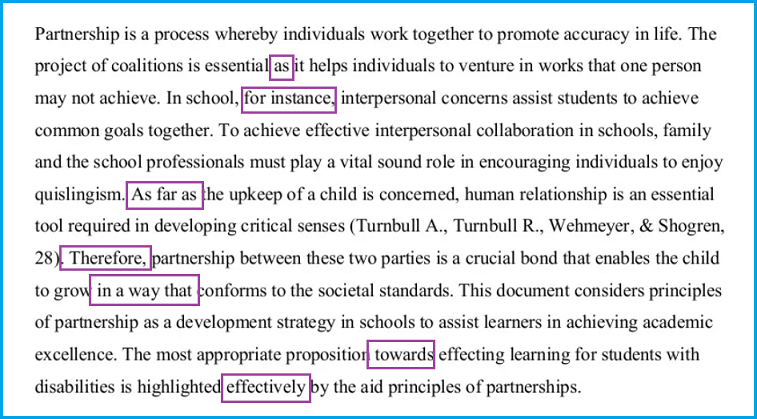 This one was an  essay introduction . 
Now, why not take a step further and look for essay linking words in  essay conclusions ?

Types and List of Linking Words to Use in Essays
Below you'll find the ultimate list of transition words for essays by categories. Choose the role you need a word to play (reason, contrast, emphasis, restatement, etc.) and consider the corresponding table of transitions.
If you need the whole transition words list in one place, jump to the next category of this post to find the downloadable linking words pdf.
And now, for connecting words categories:
These words serve to add info to what you've previously stated, demonstrate the commonality between arguments, and support your thoughts.
Linking words for contrast is your instrument to show how things are different and provide counterarguments. They work best in  persuasive  and  critical  essays.
These lexical items will help you if you need to provide conditions to your statements, show how things are different/similar, or accept a point with reservation.
These words will help you with  personal  or  narrative essays: They are linking words in opinion writing that indicates you're going to explore ideas in more detail.
Expository essays will win with these words too.
Cause and effect connecting words do what their name says exactly: demonstrating a cause of some point and providing the result of what has been done or started.
These words are for putting forward your point more forcefully, providing examples.
Perfect transition words for hypothesis essays , generalization lexical items serve to make a general statement you'll then specify and prove in detail.
These words and phrases are for you to provide examples in essays.
Use these words to provide order and reference or clarify spatial relationships between your points or ideas.
These transitional words will help you demonstrate relationships between ideas and provide reasons for what and why has started or occurred.
Use these words in your essay when you need to indicate the time and order of what you say.
Restatement words will help you express an alternative to what you previously stated. They work for all essay types, including  rhetorical precis  and  dialectic essays .
Use summary and conclusion transitional phrases to sum up your points and come up with the final paragraph of your writing.
The Ultimate List of Connecting Words: Download
And now, for the most interesting and practical part:
Below you can find the linking words worksheet that gathers all the most commonly used transitional words in essays. Feel free to download this linking words PDF and refer to it every time you write an essay and experience writer's block: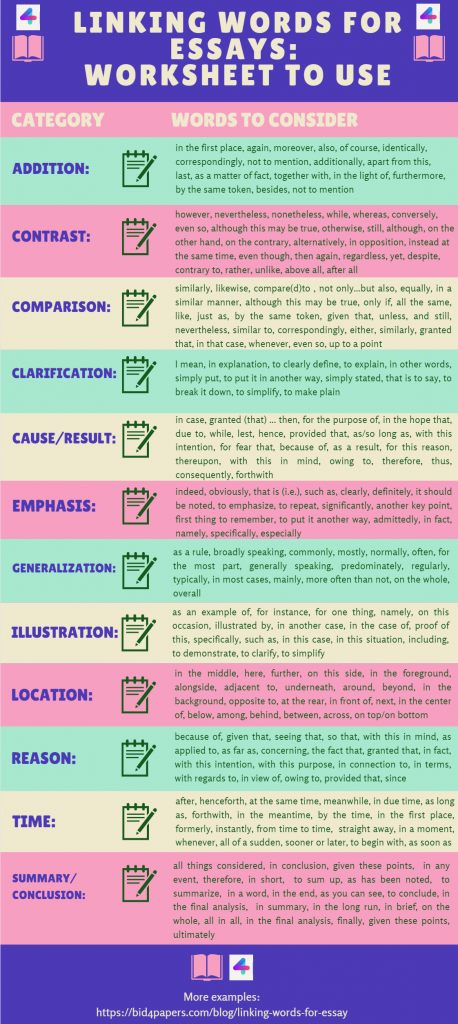 Do you need more guides and worksheets like this to assist you with academic writing? Please share your ideas in the comments, and our writers will be happy to help!
Our Writing Guides
Leave a reply cancel reply.
Your email address will not be published. Required fields are marked *
English Practice Downloadable PDF Grammar and Vocabulary Worksheets
Connectives and linking phrases (b2).
CON004 - Connectives and Linking Words
CON003 - Connectives and Linking Phrases
CON002 - Connectives and Linking Phrases
CON001 - Connectives
Adjective - Adverb
Gerund and Infinitive
Modal Verbs
Reported Speech
Passive Voice
Definite and Indefinite Articles
Quantifiers
Relative Clauses
Prepositions
Questions and Negations
Question Tags
Language in Use
Word Formation
General Vocabulary
Topical Vocabulary
Key Word Transformation
News Articles
Letters and Emails
Blog Posts and Comments
Connectives and Linking Phrases
Phrasal Verbs
Collocations and Phrases
Listening Comprehension
Privacy policy.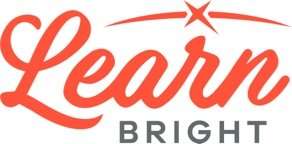 Linking Words and Phrases
Our Linking Words and Phrases lesson plan teaches students how to identify and use linking words and phrases. Students practice using these words and phrases in their own writing in order to solidify their understanding of the lesson material.
Description
Additional information.
Our Linking Words and Phrases lesson plan develops written expression and communication as students use linking words and phrases (e.g., because, therefore, since, for example) to connect opinion and reasons. Students are asked to participate in an engaging activity which prepares them to identify linking words while reading and utilize them appropriately in writing. Students are also asked to independently identify linking words and phrases in a given paragraph.
At the end of the lesson, students will be able to successfully use linking words and phrases (e.g., because, therefore, since, for example) to connect opinion and reasons. Students will be able to identify them while reading and when writing.
Thank you for submitting a review!
Your input is very much appreciated. Share it with your friends so they can enjoy it too!
Excellent material
Quite handy, especially when you need to teach in the last minute.
I found this a good resource to use with my students to encourage them to vary there sentences.
Linking words
Great collection of ideas and exercises to make pupils aware of lthe purpose and use of linking words
Great Tools for Home Schooling
I would definitely recommend this site to others seeking to help there child be more active in learning. This site provides great activities to open the door to knowledge.
Related products
History of Halloween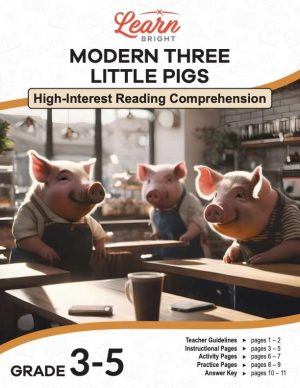 Modern Three Little Pigs
Venomous Snakes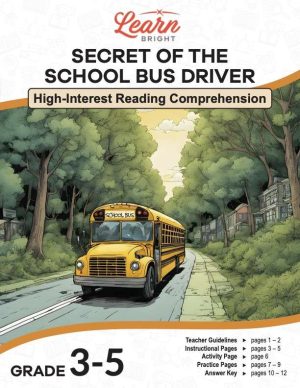 Secret of the School Bus Driver
Make your life easier with our lesson plans, stay up-to-date with new lessons. © 2023 Learn Bright. All rights reserved. Terms and Conditions. Privacy Policy.
Breakout English

Linking words – How to improve your writing
Linking words, also known as linkers, cohesive devices, connectors and transition words, are a vital part of writing. Often when we teach English, we feed vocabulary and phrases to students which, if we're not careful, can start sounding forced. For me, linking words are the exception to that. I find that a solid lesson with these special words can almost certainly help improve a students writing regardless of the level. It's not just because it appears in writing marking scales for every official exam there is, it's because they actually work. Without linking words, texts can feel dull and disconnected. That's definitely not the image we want to give when trying to prove our level of English.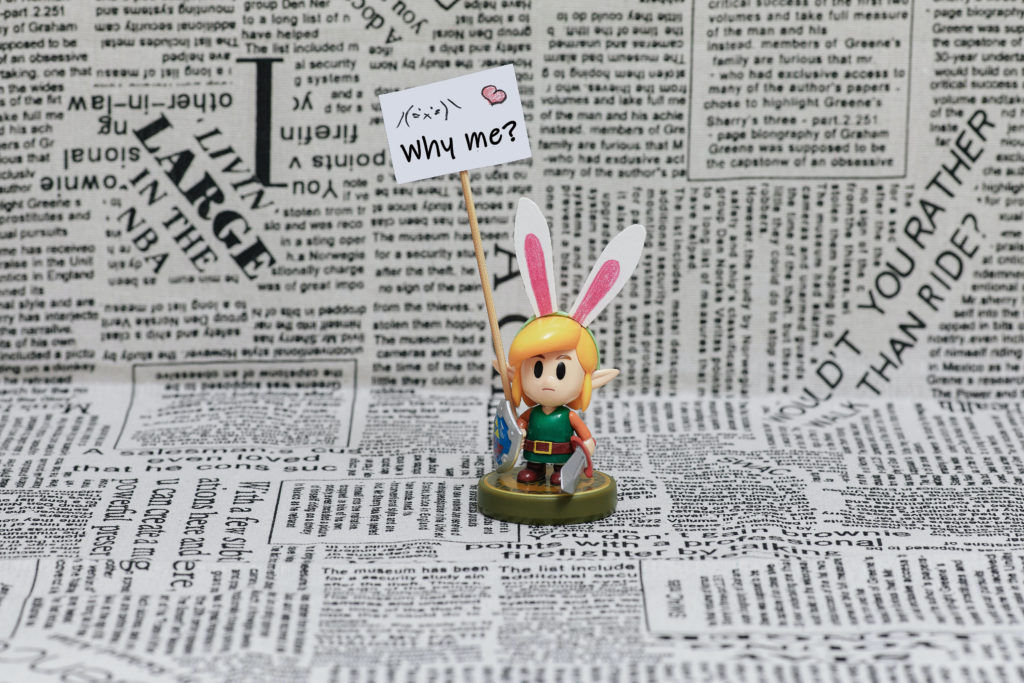 What are linking words?
There are linking words and phrases for different purposes. You can find exhaustive lists of linking words examples all over the web, but the important thing is using them to good effect.
If your writing was like the human body, the content words would be the flesh and the paragraph structure would be the skeleton. Linkers are like the joints of your writing. They help to connect the different parts together and interact with each other. An essay with good cohesive devices will flow and be easy to read. In fact, it's practically impossible to write without them.
Linking words at different levels
Let's use Cambridge writing scales as a guide for what we should be using at different levels. At B1 Preliminary (PET) candidates are expected to use basic linking words. Basic linking words are essentially and , so , but and because . At B2 First (FCE) level, a variety of linking words should be used. While by C1 Advanced (CAE), candidates are using cohesive devices to generally good effect.
Although the terminology shifts between levels, the concept is the same. An exam candidate's writing should be connected together in a way that makes it flow from one section to another using words that help to achieve said outcome. Notice that it's not until C2 Proficiency (CPE) level that candidates should be able to use cohesive devices with flexibility.
For more information about how Cambridge writing is marked, check out the different scales here .
If you're looking to improve your writing for the Cambridge Advanced exam, consider our book Cambridge Advanced Writing Plus .
Linking words examples
There are so many transition words you can use in your writing, but having a ridiculously long list isn't the best option in this case (and I'm normally a big fan of lists). When I teach writing, I tend to focus on a selection of common and useful linking words. These can be associated with their purpose. Words similar to and are used to add additional information. Words similar to but are used to contrast ideas. Words similar to so provide result and those similar to because develop reason.
This list is not exhaustive, but it's enough for 90% of learners who are using linking words in English. These are good cohesive devices for an essay, a formal letter or a report. They can be used in a wide range of styles and contexts. Keep in mind that linking words and phrases are also a strong indication of formality in a text, but they aren't the only factor.
The other essential factor to consider with linkers is how to use them in a sentence. Different ones need different grammatical structures surrounding them. This is what the activity below focusses on in detail.
The materials
There is little doubt that any exam preparation course will include a lesson on producing cohesive writing. These materials associate complex linkers with simple comparison words before putting them to use. We'll consider both the meaning and the use of linking words and phrases. The topic focuses on money and wealth, which can pop up anywhere from B1 level onwards. Use them to improve writing skills, especially in formal writings like essays, reports and proposals.
EXAM PART : Writing
EXAM SKILLS : Using cohesive devices to improve organisation
TOPIC: Money
TIME: 60 minutes
PREPARATION: One copy of the worksheet per student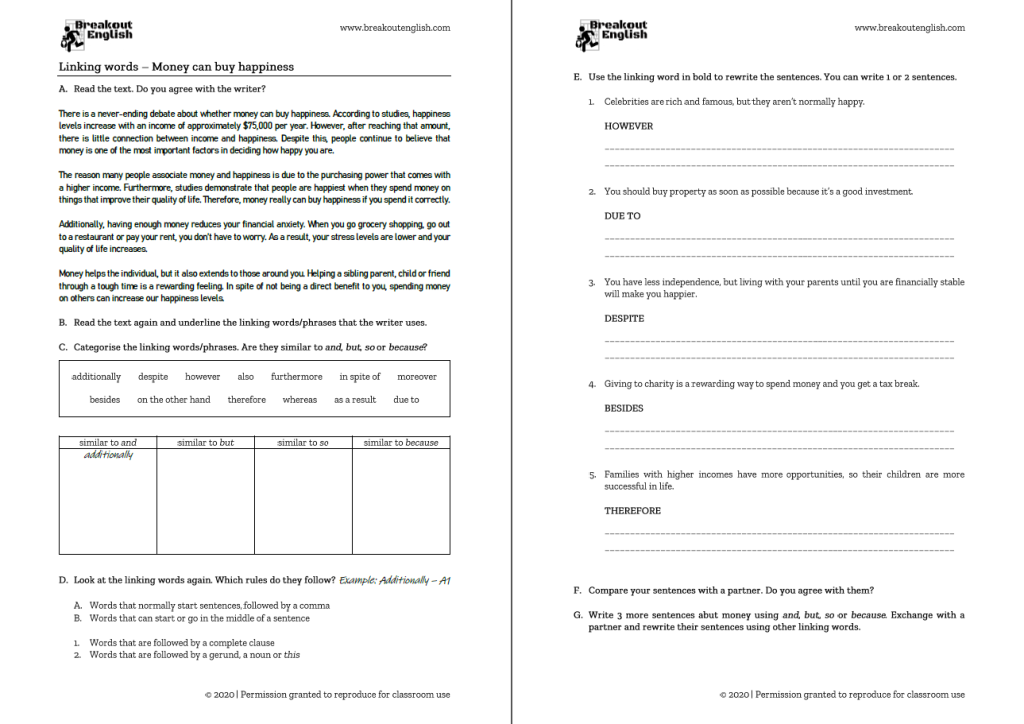 Leave a Comment Cancel Reply
Your email address will not be published. Required fields are marked *
This site uses Akismet to reduce spam. Learn how your comment data is processed .

AllAssignmentHelp.com
Linking Words To Use In An Essay
Table of Contents
Linking words are those words that showcase a connection between sentences. Linking words help in forming the uniformity in the essay. These words are also known as transition words and used to show a relation among paragraphs or different sections in an essay. As the name suggests, Linking words bridge the gap between the ideas or concepts written in the essays. Your text seems to be more cohesive with the usage of linking words. Use proper linking words to reduce the reading efforts of the readers. Readers don't want to take mental stress in understanding your essay. Therefore, it is necessary to make things easy for them.
Different types of linking words in an essay
It is not an easy task to compose a compelling essay. If you want to make your essay more appealing and expressive, then focus on three things, first is research, presentation and persuasion. If you don't have a knack for writing, then you will fail miserably in forming a cohesive essay with judicial use of linking words.
Linking words play an important role in any type of essay. Without linking words, the information presented in an essay is just a dump of words. If you don't want your essay to be clunky and disjointed one, use linking words and phrases correctly.
There are various categories of linking words one can use while writing an essay. Today in this blog, you will read 8 main categories and linking words list to be used while framing an essay. So here are 8 types of linking words to be used in an essay:
Read Also- Business Management
Linking words list for order and sequence
Flow is necessary for any type of essay. If there is an absence of flow of ideas, thoughts or logic in your essay, it will lose its glory. Here is a linking words list that helps by showing a sequence order in the essay.
First/ Second/ Third or Firstly/ secondly/ Thirdly
Primary/ Secondary
At the same time
At this point of time
Concurrently
First of all
Following this
In the first place
The next step
In the beginning
It all started when
Once upon a time
To begin with/ To start with
Linking words list to show a comparison
In various types of essays such as argumentative essay writing, compare and contrast essay writing, you might need to show comparison. Read different comparative essay examples to understand the role of these words in making a comparison. Therefore, you can follow the following words to make the comparison more clear. Here is a linking words list to show comparison:
Just as … so too
In the same time
By the same token
In the same way
Linking words list for contrasting
Just like the way you need linking words to show comparison, there are words that are used to show the contrast as well. Here is a of linking words list to show contrast:
However/ Nevertheless
Alternatively
Despite this
On the contrary
In spite of
Illustrating an example linking words list
Almost all types of essays require evidence or some examples to prove a specific point of view. But just telling an example may sound blunt. That is why we use linking words to show examples in a beautified manner. Have a look at the linking words list:
For example
For instance
In other words
An instance
As revealed by
To show that
In the case of
As an example
For one thing
Linking words list for additions
If you want to add some more information you can use addition linking words to convey the right meaning. Using "also" or "and" everywhere in the essay can take the charm away. So here is a linking words list you can use to while adding new information.
Furthermore
In addition
Specifically
To illustrate
To demonstrate
In line manner
Not only … but also
What's more
By the same
Cause and effect linking words list
In any essay, if you want to draw a rational conclusion, you need to use cause and effect words. This makes a good connection of the whole essay with a conclusion. Use these linking words in an essay to show the cause and effect relationship.
Consequently
As a result of
As a consequence of
Contributes to
For this reason
Results from
Is the result of
Is the consequence of
Is caused by
Linking words list to Conclude
A good essay is one that is having a good conclusion. While most of the students use almost the same words to conclude their essays, here you have the chance to conclude the essay with some good words. Look at the linking words list for an excellent conclusion:
To conclude
In conclusion
On the whole
Summarising
By and large
All things considered
In the long run
For the most part
By the large
As a result
As you can see there are 8 main types of linking word categories that can be used while writing an essay. For more understanding visit smartwords.org .
But just using these words is not enough. You need to adjust and position them correctly or else, they will fail to tempt the readers.
In the next paragraph, I will be showing how to use these words in the sentences.
How to position linking or transition words in an essay
Using linking words correctly in an essay is not rocket science. You can learn it easily, all you need is the focus while writing an essay. There are three ways or I should say positions where you can fit your connecting words or linking words.
The first position is: At the beginning of the sentence
You can start a sentence with a linking word that provides a reference to the previous point. Have a look at some examples to understand more clearly.
One can have a lot of difficulty in writing creatively. However, creative writing is a useful skill.
I am not a big fan of marvel comics. On the other hand, I like their concept.
I fumble a lot while speaking. As a result, I fail to clear interviews.
The second position is: In the middle of the sentence
In an essay, you can use linkings words in the middle of the sentences as well. Usually, we write it after the subject. Learn how to use through the following examples.
One cannot escape from failures. They are, however, good lessons of life.
I am not good at grammar, as a result, I fail to get good grades in academic assignments.
The correct information is required for a good essay, but ideas too, play an important role.
The third position is: At the end of the sentence
At times you can use the connection or linking words at the end of the essay. It makes sense, you can see that in the following sentences.
Learning grammatical rules is a tough process. It is very useful, however.
I am not a lover of poetry. I love to recite them, on the other hand.
I am not a confident speaker. I get nervous in public speaking, as a result.
I hope the above-mentioned information will help you to understand the correct use of linking words in an essay. For more help, you can visit Englishathome.com and learn more about the words to use in essays.
Know about us
Allassignmenthelp.com is one of the leading academic essay help writing services in the US and Australia. We are helping students for the last ten years. Essay writing is a time-consuming task as well as it requires skilful writing and quick thought process. Students under a lot of academic pressure, find essay writing tough. They can call us and order essay whenever they want. We have a team of professional writers who are dealing with all types of essay writing work. Along with ess ay writing service following are the benefits you will get from us:
Exciting discounts and cashback
Students often find themselves in financial crisis, that is why we provide massive discounts and cashback on all types of academic assignments. Furthermore, our prices will satisfy your pocket for sure.
Round the clock support
Whether it is day time or night, you can now take our services as per your convenience. We are always here for you. Our customer care executives work day and night and listen to all your problems.
Guaranteed refund
This service may not come in use, still, if you get any quality issue or plagiarism in work, we will refund your money and rewrite the assignments within 24 hours.
Precision in work
Our professional essay writers try to be as close to perfection as possible. You will get amazing results for sure if you take help from us. Experts will take the pain and serve you the best work for sure.
No plagiarism
Plagiarism can be eliminated from the essay if it is written after good research. Writers at allassignmenthelp.com do proper research on the topic from reliable sources, then write the content for you. You will get zero plagiarism in essays. Moreover, we also share the Turnitin report with students.