Types of Writing Styles
There are four main types of writing: expository, descriptive, persuasive, and narrative. Each of these writing styles is used for a specific purpose. A single text may include more than one writing style.
Expository writing is one of the most common types of writing. When an author writes in an expository style, all they are trying to do is explain a concept, imparting information from themselves to a wider audience. Expository writing does not include the author's opinions, but focuses on accepted facts about a topic, including statistics or other evidence.
Examples of Expository Writing
How-to articles
News stories (not editorials or Op-Eds)
Business, technical, or scientific writing
Descriptive
Descriptive writing is often found in fiction, though it can make an appearance in nonfiction as well (for example, memoirs, first-hand accounts of events, or travel guides). When an author writes in a descriptive style, they are painting a picture in words of a person, place, or thing for their audience. The author might employ metaphor or other literary devices in order to describe the author's impressions via their five senses (what they hear, see, smell, taste, or touch). But the author is not trying to convince the audience of anything or explain the scene – merely describe things as they are.
Examples of Descriptive Writing
Journal/diary writing
Descriptions of Nature
Fictional novels or plays
Persuasive writing is the main style of writing you will use in academic papers. When an author writes in a persuasive style, they are trying to convince the audience of a position or belief. Persuasive writing contains the author's opinions and biases, as well as justifications and reasons given by the author as evidence of the correctness of their position. Any "argumentative" essay you write in school should be in the persuasive style of writing.
Examples of Persuasive Writing
Cover letters
Op-Eds and Editorial newspaper articles
Reviews of items
Letters of complaint
Advertisements
Letters of recommendation
Narrative writing is used in almost every longer piece of writing, whether fiction or nonfiction. When an author writes in a narrative style, they are not just trying to impart information, they are trying to construct and communicate a story, complete with characters, conflict, and settings.
Examples of Narrative Writing
Oral histories
Novels/Novellas
Poetry (especially epic sagas or poems)
Short Stories
About Writing: A Guide Copyright © 2015 by Robin Jeffrey is licensed under a Creative Commons Attribution 4.0 International License , except where otherwise noted.
Purdue Online Writing Lab Purdue OWL® College of Liberal Arts
Expository Essays

Welcome to the Purdue OWL
This page is brought to you by the OWL at Purdue University. When printing this page, you must include the entire legal notice.
Copyright ©1995-2018 by The Writing Lab & The OWL at Purdue and Purdue University. All rights reserved. This material may not be published, reproduced, broadcast, rewritten, or redistributed without permission. Use of this site constitutes acceptance of our terms and conditions of fair use.
The Modes of Discourse—Exposition, Description, Narration, Argumentation (EDNA)—are common paper assignments you may encounter in your writing classes. Although these genres have been criticized by some composition scholars, the Purdue OWL recognizes the wide spread use of these approaches and students' need to understand and produce them.
What is an expository essay?
The expository essay is a genre of essay that requires the student to investigate an idea, evaluate evidence, expound on the idea, and set forth an argument concerning that idea in a clear and concise manner. This can be accomplished through comparison and contrast, definition, example, the analysis of cause and effect, etc.
Please note : This genre is commonly assigned as a tool for classroom evaluation and is often found in various exam formats.
The structure of the expository essay is held together by the following.
A clear, concise, and defined thesis statement that occurs in the first paragraph of the essay.
It is essential that this thesis statement be appropriately narrowed to follow the guidelines set forth in the assignment. If the student does not master this portion of the essay, it will be quite difficult to compose an effective or persuasive essay.
Clear and logical transitions between the introduction, body, and conclusion.
Transitions are the mortar that holds the foundation of the essay together. Without logical progression of thought, the reader is unable to follow the essay's argument, and the structure will collapse.
Body paragraphs that include evidential support.
Each paragraph should be limited to the exposition of one general idea. This will allow for clarity and direction throughout the essay. What is more, such conciseness creates an ease of readability for one's audience. It is important to note that each paragraph in the body of the essay must have some logical connection to the thesis statement in the opening paragraph.
Evidential support (whether factual, logical, statistical, or anecdotal).
Often times, students are required to write expository essays with little or no preparation; therefore, such essays do not typically allow for a great deal of statistical or factual evidence.
Though creativity and artfulness are not always associated with essay writing, it is an art form nonetheless. Try not to get stuck on the formulaic nature of expository writing at the expense of writing something interesting. Remember, though you may not be crafting the next great novel, you are attempting to leave a lasting impression on the people evaluating your essay.
A conclusion that does not simply restate the thesis, but readdresses it in light of the evidence provided.
It is at this point of the essay that students will inevitably begin to struggle. This is the portion of the essay that will leave the most immediate impression on the mind of the reader. Therefore, it must be effective and logical. Do not introduce any new information into the conclusion; rather, synthesize and come to a conclusion concerning the information presented in the body of the essay.
A complete argument
Perhaps it is helpful to think of an essay in terms of a conversation or debate with a classmate. If I were to discuss the cause of the Great Depression and its current effect on those who lived through the tumultuous time, there would be a beginning, middle, and end to the conversation. In fact, if I were to end the exposition in the middle of my second point, questions would arise concerning the current effects on those who lived through the Depression. Therefore, the expository essay must be complete, and logically so, leaving no doubt as to its intent or argument.
The five-paragraph Essay
A common method for writing an expository essay is the five-paragraph approach. This is, however, by no means the only formula for writing such essays. If it sounds straightforward, that is because it is; in fact, the method consists of:
an introductory paragraph
three evidentiary body paragraphs
a conclusion
Have a language expert improve your writing
Run a free plagiarism check in 10 minutes, generate accurate citations for free.
Knowledge Base
How to write a descriptive essay | Example & tips
How to Write a Descriptive Essay | Example & Tips
Published on July 30, 2020 by Jack Caulfield . Revised on August 14, 2023.
A descriptive essay gives a vivid, detailed description of something—generally a place or object, but possibly something more abstract like an emotion. This type of essay , like the narrative essay , is more creative than most academic writing .
Table of contents
Descriptive essay topics, tips for writing descriptively, descriptive essay example, other interesting articles, frequently asked questions about descriptive essays.
When you are assigned a descriptive essay, you'll normally be given a specific prompt or choice of prompts. They will often ask you to describe something from your own experience.
Describe a place you love to spend time in.
Describe an object that has sentimental value for you.
You might also be asked to describe something outside your own experience, in which case you'll have to use your imagination.
Describe the experience of a soldier in the trenches of World War I.
Describe what it might be like to live on another planet.
Sometimes you'll be asked to describe something more abstract, like an emotion.
If you're not given a specific prompt, try to think of something you feel confident describing in detail. Think of objects and places you know well, that provoke specific feelings or sensations, and that you can describe in an interesting way.
Prevent plagiarism. Run a free check.
The key to writing an effective descriptive essay is to find ways of bringing your subject to life for the reader. You're not limited to providing a literal description as you would be in more formal essay types.
Make use of figurative language, sensory details, and strong word choices to create a memorable description.
Use figurative language
Figurative language consists of devices like metaphor and simile that use words in non-literal ways to create a memorable effect. This is essential in a descriptive essay; it's what gives your writing its creative edge and makes your description unique.
Take the following description of a park.
This tells us something about the place, but it's a bit too literal and not likely to be memorable.
If we want to make the description more likely to stick in the reader's mind, we can use some figurative language.
Here we have used a simile to compare the park to a face and the trees to facial hair. This is memorable because it's not what the reader expects; it makes them look at the park from a different angle.
You don't have to fill every sentence with figurative language, but using these devices in an original way at various points throughout your essay will keep the reader engaged and convey your unique perspective on your subject.
Use your senses
Another key aspect of descriptive writing is the use of sensory details. This means referring not only to what something looks like, but also to smell, sound, touch, and taste.
Obviously not all senses will apply to every subject, but it's always a good idea to explore what's interesting about your subject beyond just what it looks like.
Even when your subject is more abstract, you might find a way to incorporate the senses more metaphorically, as in this descriptive essay about fear.
Choose the right words
Writing descriptively involves choosing your words carefully. The use of effective adjectives is important, but so is your choice of adverbs , verbs , and even nouns.
It's easy to end up using clichéd phrases—"cold as ice," "free as a bird"—but try to reflect further and make more precise, original word choices. Clichés provide conventional ways of describing things, but they don't tell the reader anything about your unique perspective on what you're describing.
Try looking over your sentences to find places where a different word would convey your impression more precisely or vividly. Using a thesaurus can help you find alternative word choices.
My cat runs across the garden quickly and jumps onto the fence to watch it from above.
My cat crosses the garden nimbly and leaps onto the fence to survey it from above.
However, exercise care in your choices; don't just look for the most impressive-looking synonym you can find for every word. Overuse of a thesaurus can result in ridiculous sentences like this one:
My feline perambulates the allotment proficiently and capers atop the palisade to regard it from aloft.
An example of a short descriptive essay, written in response to the prompt "Describe a place you love to spend time in," is shown below.
Hover over different parts of the text to see how a descriptive essay works.
On Sunday afternoons I like to spend my time in the garden behind my house. The garden is narrow but long, a corridor of green extending from the back of the house, and I sit on a lawn chair at the far end to read and relax. I am in my small peaceful paradise: the shade of the tree, the feel of the grass on my feet, the gentle activity of the fish in the pond beside me.
My cat crosses the garden nimbly and leaps onto the fence to survey it from above. From his perch he can watch over his little kingdom and keep an eye on the neighbours. He does this until the barking of next door's dog scares him from his post and he bolts for the cat flap to govern from the safety of the kitchen.
With that, I am left alone with the fish, whose whole world is the pond by my feet. The fish explore the pond every day as if for the first time, prodding and inspecting every stone. I sometimes feel the same about sitting here in the garden; I know the place better than anyone, but whenever I return I still feel compelled to pay attention to all its details and novelties—a new bird perched in the tree, the growth of the grass, and the movement of the insects it shelters…
Sitting out in the garden, I feel serene. I feel at home. And yet I always feel there is more to discover. The bounds of my garden may be small, but there is a whole world contained within it, and it is one I will never get tired of inhabiting.
If you want to know more about AI tools , college essays , or fallacies make sure to check out some of our other articles with explanations and examples or go directly to our tools!
Ad hominem fallacy
Post hoc fallacy
Appeal to authority fallacy
False cause fallacy
Sunk cost fallacy
College essays
Choosing Essay Topic
Write a College Essay
Write a Diversity Essay
College Essay Format & Structure
Comparing and Contrasting in an Essay
 (AI) Tools
Grammar Checker
Paraphrasing Tool
Text Summarizer
AI Detector
Plagiarism Checker
Citation Generator
Here's why students love Scribbr's proofreading services
Discover proofreading & editing
The key difference is that a narrative essay is designed to tell a complete story, while a descriptive essay is meant to convey an intense description of a particular place, object, or concept.
Narrative and descriptive essays both allow you to write more personally and creatively than other kinds of essays , and similar writing skills can apply to both.
If you're not given a specific prompt for your descriptive essay , think about places and objects you know well, that you can think of interesting ways to describe, or that have strong personal significance for you.
The best kind of object for a descriptive essay is one specific enough that you can describe its particular features in detail—don't choose something too vague or general.
Cite this Scribbr article
If you want to cite this source, you can copy and paste the citation or click the "Cite this Scribbr article" button to automatically add the citation to our free Citation Generator.
Caulfield, J. (2023, August 14). How to Write a Descriptive Essay | Example & Tips. Scribbr. Retrieved November 4, 2023, from https://www.scribbr.com/academic-essay/descriptive-essay/
Is this article helpful?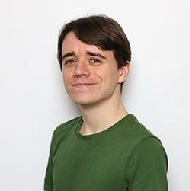 Jack Caulfield
Other students also liked, how to write a narrative essay | example & tips, how to write a literary analysis essay | a step-by-step guide, how to write an expository essay, what is your plagiarism score.
What Is Expository Writing?
How to Write an Expository Essay
Ph.D., Rhetoric and English, University of Georgia
M.A., Modern English and American Literature, University of Leicester
B.A., English, State University of New York
Expository writing is used to convey factual information (as opposed to creative writing, such as fiction). It is the language of learning and understanding the world around us. If you've ever read an encyclopedia entry, a how-to article on a website, or a chapter in a textbook, then you've encountered examples of expository writing.
Key Takeaways: Expository Writing
Just the facts, M'am: Expository writing is informational, not creative writing.
Anytime you write to describe or explain, you use expository writing.
Use a logical flow when planning an expository essay, report, or article: introduction, body text, and conclusion.
It's often easier to write the body of your article first, before composing the introduction or conclusion.
Expository writing is everywhere in everyday life, not just academic settings, as it's present anytime there's information to be conveyed. It can take form in an academic paper, an article for a newspaper, a report for a business, or even book-length nonfiction. It explains, informs, and describes.
Types of Expository Writing
In composition studies , expository writing (also called exposition ) is one of the four traditional modes of discourse . It may include elements of narration , description , and argumentation . Unlike creative or persuasive writing , which can appeal to emotions and use anecdotes, expository writing's primary purpose is to deliver information about an issue, subject, method, or idea using facts.
Exposition may take one of several forms:
Descriptive/definition: In this style of writing, topics are defined by characteristics, traits, and examples. An encyclopedia entry is a kind of descriptive essay.
Process/sequential: This essay outlines a series of steps needed in order to complete a task or produce something. A recipe at the end of an article in a food magazine is one example.
Comparative/contrast: This kind of exposition is used to demonstrate how two or more subjects are the same and different. An article that explains the difference between owning and renting a home and the benefits and drawbacks of each is one such an example.
Cause/effect: This kind of essay describes how one step leads to a result. An example is a personal blog chronicling a workout regimen and documenting the results over time.
Problem/solution: This type of essay presents a problem and possible solutions, backed by data and facts, not just opinion.
Classification: A classification essay breaks down a broad topic into categories or groupings.
Tips for Expository Writing
As you write, keep in mind some of these tips for creating an effective expository essay:
Start where you know the information best. You don't have to write your introduction first. In fact, it might be easier to wait until the end for that. If you don't like the look of a blank page, move over the slugs from your outline for the main body paragraphs and write the topic sentences for each. Then start putting in your information according to each paragraph's topic.
Be clear and concise.  Readers have a limited attention span. Make your case succinctly in language that the average reader can understand. 
Stick to the facts.  Although an exposition can be persuasive, it should not be based on opinion only. Support your case with facts, data, and reputable sources that can be documented and verified.
Consider voice and tone.  How you address the reader depends on the kind of essay you're writing. An essay written in the first person is fine for a personal travel essay but is inappropriate if you're a business reporter describing a patent lawsuit. Think about your audience before you begin writing.
Planning Your Essay
Brainstorm: Jot down ideas on a blank piece of paper. Connect them with arrows and lines, or just make lists. Rigor doesn't matter at this stage. Bad ideas don't matter at this stage. Just write down ideas, and the engine in your head will lead you to a good one. When you've got that idea, then repeat the brainstorming exercise with ideas that you want to pursue on that topic and information you could put in. From this list, you'll start to see a path emerge for your research or narrative to follow.
Compose your thesis: When your ideas coalesce into a sentence in which you can summarize the topic you're writing about, you're ready to compose your thesis sentence. Write down in one sentence the main idea that you'll explore in your paper.
Examine your thesis: Is it clear? Does it contain opinion? If so, revise that out. For this type of essay, you stick to the facts and evidence. This isn't an editorial. Is the thesis' scope manageable? You don't want your topic too narrow or too broad to be covered in the amount of space you have for your paper. If it's not a manageable topic, refine it. Don't be dismayed if you have to come back and tweak it if your research finds that your initial idea was off-kilter. It's all just part of the process of focusing the material.
Outline: It may seem inconsequential, but making even a quick outline can save you time by organizing your areas of pursuit and narrowing them down. When you see your topics in an organized list, you may be able to discard off-topic threads before you research them—or as you're researching them and you find they just don't work.
Research: Find your data and sources to back up the areas you want to pursue to support your thesis statement. Look for sources written by experts, including organizations, and watch for bias. Possible sources include statistics, definitions, charts and graphs, and expert quotes and anecdotes. Compile descriptive details and comparisons to make your topic clear to your reader, when applicable.
What Is an Expository Essay?
An expository essay has three basic parts: the introduction, the body, and the conclusion. Each is crucial to writing a clear article or effective argument.
The introduction: The first paragraph is where you'll lay the foundation for your essay and give the reader an overview of your thesis. Use your opening sentence to get the reader's attention, and then follow up with a few sentences that give your reader some context for the information you're about to cover.
The body:  At a minimum, include three to five paragraphs in the body of your expository essay. The body could be considerably longer, depending on your topic and audience. Each paragraph begins with a topic sentence where you state your case or objective. Each topic sentence supports your overall thesis statement. Then, each paragraph includes several sentences that expand on the information and/or support the topic sentence. Finally, a concluding sentence offers a transition to the following paragraph in the essay.
The conclusion:  The final section of your expository essay should give the reader a concise overview of your thesis. The intent is not merely to summarize your argument but to use it as a means of proposing further action, offering a solution, or posing new questions to explore. Don't cover new material related to your thesis, though. This is where you wrap it all up.
Expository Examples
An expository article or report about a lake, for example, could discuss its ecosystem: the plants and animals that depend on it along with its climate. It could describe physical details about its size, depth, amount of rainfall each year, and the number of tourists it receives annually. Information on when it was formed, its best fishing spots, or its water quality could be included, depending on the audience for the piece.
An expository piece could be in third person or second person. Second-person examples could include, for example, how to test lake water for pollutants or how to kill invasive species. Expository writing is useful and informative.
In contrast, someone writing a creative nonfiction article about a lake might relate the place to a defining moment in his or her life, penning the piece in first person. It could be filled with emotion, opinion, sensory details, and even include dialogue and flashbacks. It's a much more evocative, personal type of writing than an expository piece, even though they're both nonfiction styles.
How to Write a Solid Thesis Statement
The Ultimate Guide to the 5-Paragraph Essay
Definition and Examples of Analysis in Composition
Understanding Organization in Composition and Speech
How to Structure an Essay
Development in Composition: Building an Essay
How To Write an Essay
Tips for Writing an Art History Paper
Definition and Examples of Body Paragraphs in Composition
Understanding What an Expository Essay Is
Write an Attention-Grabbing Opening Sentence for an Essay
6 Steps to Writing the Perfect Personal Essay
The Five Steps of Writing an Essay
How to Write a Research Paper That Earns an A
Expository Essay Genre With Suggested Prompts
What an Essay Is and How to Write One
By clicking "Accept All Cookies", you agree to the storing of cookies on your device to enhance site navigation, analyze site usage, and assist in our marketing efforts.
English 101
Types of Written Compositions
Choosing a Topic
Thesis Statement
Writing Process
MLA Citation
What is A Composition
Narrative Essay (Telling a Story)
Novels, short stories, novellas, poetry, and biographies can all fall in the narrative writing style. A narrative composition is when the writer tells a story about a real-life experience. This appears to be an easy task, but the narrative composition challenges students to think and write about themselves which can be difficult for some. One of the goals of a narrative composition is to involve the reader by making the story as vivid as possible. Because narrative compositions are usually written in the first person, it helps engage the reader. "I" sentences give readers a feeling of being part of the story. Moreover, a well-crafted narrative composition will answer the question "What happens next" and build towards drawing a conclusion or making a personal statement such as teaching a lesson.
Key Points:
A person tells a story or event.
Has characters and dialogue.
Has definite and logical beginnings, intervals, and endings.
Often has situations like actions, motivational events, and disputes or conflicts with their eventual solutions.
Examples of When You Would Use Persuasive Writing:
Short stories
Autobiographies or biographies
Oral histories
"I don't think that's a good idea," said Jaelyn.
"You never used to be such a girl!" retorted Orin, pushing open the door.
Reluctantly, Jaelyn followed.
This is a narrative because it's telling a story. There are different characters conversing, and a plot is unravelling.
https://www.time4writing.com/writing-resources/types-of-essays/
https://owlcation.com/humanities/Four-Types-of-Writing
Descriptive Composition (Painting a Picture)
A cousin of the narrative composition, a descriptive composition paints a picture with words. A writer might describe with vivid, concrete, and precise words a person, place, object, or a even memory of special significance. However, this type of composition is not description for description's sake. The descriptive composition strives to communicate a deeper meaning through the description such as proving a thesis or claim. In a descriptive composition, general guideline is that the writer should show, not tell, through the use of colorful words and sensory details. The best descriptive compositions appeal to the reader's five senses, with a result that is highly expressive.
Key Points :
It is often poetic in nature
It describes places, people, events, situations, or locations in a highly-detailed manner.
The author visualizes what he or she sees, hears, tastes, smells, and feels.
When You Would Use Descriptive Writing:
Journal or diary writing
Nature writing
Descriptive passages in fiction
Example:
The old car slowly chugged down the street like the caboose of a steam engine train. The car goes up the hill it goes Ka boom , kachunk. The car is old and weathered with rust covering the entire body like cancer consuming its victim. Wheels and tires wobble like a drunk bum on his way home from the bar. Hub caps are gone along with all the mirrors and extras on the car. Black smoke flows out the rotten tail pips like the smoke out of and old cobb pipe. ~© Jace Oeleis 2005~ (Source: English 120-Descriptive Paragraph)
This is descriptive writing because the paragraph uses vivid and descriptive words and phrases such as adjectives, adverbs, action verbs, figures of speech, etc. to describe an old car.
Expository Composition (Stating Just the Facts)
Expository writing's main purpose is to explain. The expository composition is an informative piece of writing that presents a balanced analysis of a topic. In an expository composition, the writer explains or defines a topic, using facts, statistics, and examples. Expository writing encompasses a wide range of essay variations, such as the comparison and contrast essay, the cause and effect essay, and the "how to" or process essay. An expository composition is one of the most common types of writing. You always see it in textbooks and how-to articles. Because expository compositions are based on facts and not personal feelings, writers avoid imparting their emotions or using the first person point-of-view.
Usually explains something in a process.
Is often equipped with facts and figures.
Is usually in a logical order and sequence.
When You Would Use Expository Writing:
Textbook writing.
How-to articles.
News stories (not including opinion or editorial pieces).
Business, technical, or scientific writing.
Many people associate the taste of pumpkins with fall. In October, companies from Starbucks to McDonalds roll out their pumpkin-flavored lattes and desserts. Here is how to make an easy pumpkin pie using only five ingredients. First, make sure you have all of the ingredients.
This writing is expository because it is explaining how to make a pumpkin pie.
<< Previous: Home
Next: Choosing a Topic >>
Last Updated: Aug 26, 2021 4:39 PM
URL: https://suscc.libguides.com/english101
Features for Creative Writers
Features for Work
Features for Higher Education
Features for Teachers
Features for Non-Native Speakers
Learn Blog Grammar Guide Community Academy FAQ
Grammar Guide
Expository Writing: Definition and Examples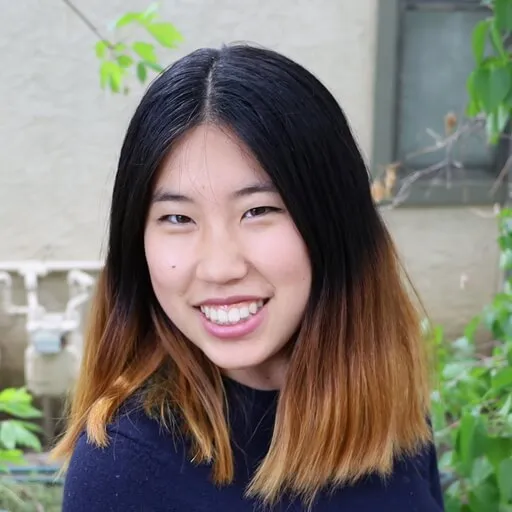 Hannah Yang
Table of Contents
What is expository writing, what is an expository paragraph, expository writing examples, how prowritingaid can help you with expository composition.
One of the most common types of writing is expository writing. Whether you're a student taking an English class or a professional trying to communicate to others in your field, you'll need to use expository writing in your day-to-day work.
So, what exactly does this term mean?
The short answer is that expository writing refers to any writing designed primarily to explain or instruct.
Read on to learn the definition of expository writing as well as some examples of what this type of writing can look like.
Before we look at examples of expository writing, let's start with a quick definition of what this term actually means.
Expository Writing Definition
The term expository writing refers to any writing that's designed to explain something. We use the word expository to describe any passage of writing that's supposed to present information and help you understand it in an objective way.
Some common examples of expository writing include academic essays, textbooks, instructional guides, and news reports. Good expository writing should be factual, objective, and clear.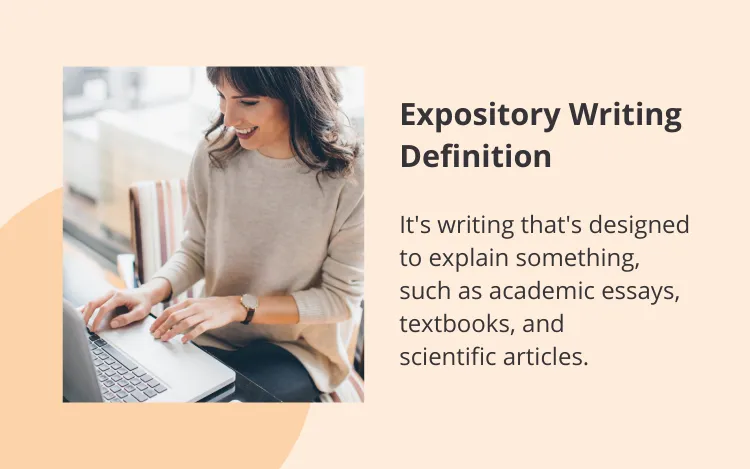 To better understand what this term means, think about the difference between a scientific article, a short story, and an advertisement.
The scientific article is considered expository writing because its primary purpose is to explain a particular topic in more detail. It presents data, analyzes what that data means, and focuses on the facts.  
On the other hand, the short story isn't considered expository writing, because its core purpose isn't to explain or inform—instead, it's probably trying to entertain you or to take you on a journey. Short stories are narrative writing.
Similarly, an advertisement isn't expository writing because its core purpose isn't to explain or inform—instead, it's trying to persuade you to buy what it's selling. Advertisements are persuasive writing.   
Here's a quick rundown of what expository essays should and shouldn't do.
An expository essay should:
Teach the reader about a particular topic
Focus on the facts
Follow a clearly organized structure
Present information and details from credible sources
An expository essay should not:
Try to change the reader's mind about something
Present the author's personal opinions
Include made-up narratives or stories
Follow experimental or nonlinear structures
An expository paragraph is exactly what it sounds like—a paragraph of expository writing.
A well-written expository paragraph should follow a specific format to make it as clear and easy to read as possible. Most expository paragraphs do the following things:
Start with a topic sentence, which explains what the paragraph will be about
Then, include 3 – 5 body sentences that provide supporting details for the topic sentence
Finally, wrap things up with a closing sentence that summarizes what the paragraph has said
Writing an expository paragraph is a great way to practice expository writing. That's because the paragraph follows the same structure as a more complex expository essay, just on a smaller scale.
Most expository essays should follow this format:  
Start with an introductory paragraph that includes the thesis statement, which tells the reader the core statement of the essay
Then, include 3 – 5 body paragraphs that provide factual evidence to support the thesis statement
Finally, wrap things up with a concluding paragraph that summarizes what the body paragraphs and thesis statement said
You can see the similarities between the two formats. If you can write a fantastic expository paragraph, you'll be well-prepared to move on to writing a full expository essay.
Example of Expository Paragraph
Here's an example of an expository paragraph that follows the structure described above.
The leading cause of death in the United States is heart disease, which can be fatal if it leads to heart attack or cardiac arrest. Heart attacks occur when a blockage in the coronary artery prevents oxygenated blood from reaching the heart. Cardiac arrests occur when the heart stops pumping entirely, which prevents the patient from breathing normally. Both of these problems can be deadly, even in seemingly healthy people who don't have noticeable risk factors. As a result, heart disease is an important problem that many doctors and scientists are researching.
Good writing = better grades
ProWritingAid will help you improve the style, strength, and clarity of all your assignments.
There are many ways you can present information in an expository essay. Here are four of the most popular ways, along with examples of each one.  
Problem and Solution Essay
A problem and solution essay presents the reader with a problem and then considers possible solutions to that problem. 
Here's an example passage you might find in a problem and solution essay:
Among the many proposed solutions to rising carbon emissions, one promising possibility is carbon trapping. Scientists are figuring out how to pull carbon emissions out of the atmosphere and trap it in less harmful forms, such as by injecting carbon dioxide underground so it will turn to stone.
Compare and Contrast Essay
This type of essay takes two subjects and compares and contrasts them. It focuses on highlighting the differences and similarities between those two things.
Here's an example passage of this type of expository writing:
Though country music and R&B music have very different sounds, they also share many similarities. For one thing, both types of music embody a specific cultural identity. For another, both genres trace their roots back to the 1920s, when the Victor Talking Machine Company signed singers from the American South.
Classification Essay
In a classification essay, you describe the categories within a certain group of things.  
Here's an example passage you might find in a classification essay:
There are three ways in which artificial intelligence might become stronger than humans in the future: high speed, high collective intelligence, and high quality. A speed AI would be able to perform calculations and experience the world much faster than humans. A collective intelligence, like a hive mind, would be able to break down a complex task into several parts and pursue them simultaneously. Finally, a quality AI would simply be able to solve more complex problems than humans could.
Process Essay
In a process essay, you give the reader the steps for completing a specific process. This is similar to a how-to guide or an instruction manual.   
Here's an example passage you might find in this type of expository writing:
Caramelize the chopped onions in a frying pan. When the onions have caramelized, mix in the bell peppers, mushrooms, and tomatoes and stir for 4 – 6 minutes or until all the ingredients have softened. If you want to add meat, you can add ground beef and cook for another 4 – 6 minutes. Season with salt and pepper to taste.  
Good expository writing should be easy to read. After all, the purpose of exposition is to explain things to your readers, and you won't be able to accomplish that if they have trouble understanding your writing.
That's why ProWritingAid can help you write an expository essay. The grammar checker can help you ensure your sentences flow well, you're not missing any necessary punctuation, and all your words are precise and clear.
Good luck, and happy writing!
Hannah is a speculative fiction writer who loves all things strange and surreal. She holds a BA from Yale University and lives in Colorado. When she's not busy writing, you can find her painting watercolors, playing her ukulele, or hiking in the Rockies. Follow her work on hannahyang.com or on Twitter at @hannahxyang.
Get started with ProWritingAid
Drop us a line or let's stay in touch via :
Inspiration & Information for Self-Improvement
Types of Writing Styles – Expository, Descriptive, Persuasive, Narrative
When it comes to writing, there are different types of styles that writers can employ to communicate their ideas effectively. Understanding these writing styles can help you choose the most appropriate approach for your specific purpose and audience. In this article, we will explore the four main types of writing styles : expository, descriptive, persuasive, and narrative.
Key Takeaways:
Expository, descriptive, persuasive, and narrative are the four main types of writing styles .
Expository writing focuses on explaining concepts and providing information.
Descriptive writing aims to create vivid images in the reader's mind.
Persuasive writing aims to convince the reader of a certain viewpoint or argument.
Narrative writing tells a story, incorporating characters, conflict, and setting.
Table of Contents
Expository Writing Style
The expository writing style is characterized by its focus on providing information and explaining concepts. It is often used in educational and informative contexts, where the objective is to convey knowledge without including personal opinions or biases. Expository writing relies on facts, evidence, and clear explanations to engage and educate the reader.
In expository writing, the author's role is to present information in a logical and organized manner, allowing the reader to gain a deeper understanding of the topic at hand. This style of writing is commonly found in textbooks, scientific articles, how-to guides, and business reports. It is essential for the author to conduct thorough research and ensure the accuracy of the information presented.
Examples of expository writing can be seen in various forms, such as:
Textbooks and academic papers that provide explanations and definitions of concepts.
How-to articles or guides that offer step-by-step instructions.
Recipes that outline the ingredients and cooking instructions.
Business or scientific writing that presents data, analysis, and conclusions.
By adopting an expository writing style , authors can effectively share knowledge and provide valuable information to their readers. This style encourages clarity, objectivity, and a focus on the logical presentation of facts and concepts.
Descriptive Writing Style
Descriptive writing is a powerful writing style that aims to captivate the reader by providing detailed and vivid descriptions. It goes beyond simply conveying information and seeks to evoke sensory experiences in the reader's mind. By incorporating literary devices such as metaphors, similes, and sensory language, descriptive writing creates imagery that transports the reader into the world being described.
Examples of descriptive writing can be found in various forms of literature. Poetry, with its use of rich language and vivid imagery, is a prime example of this style. When reading a well-written poem, the reader can almost feel the emotions and imagery being described. Journal or diary entries are another form of descriptive writing, where individuals record their thoughts and experiences using descriptive language.
Fictional novels and plays also frequently employ the descriptive writing style to create a sense of place and atmosphere. From the bustling streets of a city to the serene beauty of nature, descriptive writing allows readers to visualize and immerse themselves in the story. Additionally, descriptive writing can be found in descriptions of landscapes, objects, or even people, enabling readers to form a clear mental picture.
Examples of Descriptive Writing:
"The sun began to set, casting a warm golden glow over the rolling hills. The vibrant green grass swayed gently in the breeze, creating a soothing melody. The sweet scent of blooming flowers filled the air, while birds chirped in the distance, their songs intertwining harmoniously. It was a picturesque scene, one that seemed straight out of a fairytale."
Table: Comparing Descriptive Writing Examples
Persuasive writing style.
Persuasive writing is a powerful form of communication that aims to sway the reader's opinion or convince them to take a specific action. It relies on the author's opinions, biases, and justifications supported by evidence to make a compelling argument. This style of writing is commonly used in a variety of contexts, such as advertising, political speeches, and opinion pieces.
Persuasive writing examples can be found in various forms. For instance, cover letters are often written persuasively to convince potential employers of the applicant's qualifications and suitability for a job. Opinion pieces in newspapers or magazines present arguments on current issues, aiming to persuade readers to adopt a particular viewpoint. Reviews of products or services also employ persuasive writing techniques to influence consumer decisions.
In an opinion-based writing style , writers must carefully consider their target audience and tailor their arguments to appeal to their interests, values, and beliefs. To be effective, persuasive writing should present logical arguments, provide evidence, address counterarguments, and use rhetorical techniques to engage and captivate the reader.
Overall, persuasive writing is an opinion-based writing style that aims to convince the reader through logical arguments, evidence, and rhetorical techniques. By mastering this style, writers can effectively influence opinions, shape narratives, and inspire action.
Narrative Writing Style
In the world of writing, narrative style offers a captivating and immersive experience for readers. This storytelling writing style brings characters, conflicts, and settings to life, allowing readers to become fully engrossed in the narrative. Let's explore some examples of narrative writing and understand its unique characteristics.
Examples of Narrative Writing
Narrative writing can be found in various forms, ranging from fictional novels and short stories to non-fictional oral histories and poetry. These examples showcase the power of storytelling and how it can transport readers to different worlds and evoke emotions.
"He was an old man who fished alone in a skiff in the Gulf Stream and he had gone eighty-four days now without taking a fish." – The Old Man and the Sea by Ernest Hemingway
Ernest Hemingway's opening line in his renowned novel engages readers immediately, setting the stage for an enthralling narrative. This example demonstrates how narrative writing can capture the attention of readers right from the start.
Characteristics of Narrative Writing
Narrative writing is characterized by its focus on storytelling and the creation of a vivid narrative experience. Key elements of this writing style include:
Character development: Narrative writing delves deep into the personalities, emotions, and motivations of characters, making them relatable and memorable.
Plot progression: A narrative unfolds through a series of events, building suspense, and leading to a climax and resolution.
Descriptive details: Narrative writing incorporates vivid descriptions of settings, allowing readers to visualize the environment and immerse themselves in the story.
Dialogues: Conversations between characters bring the narrative to life and provide insights into their thoughts, feelings, and relationships.
By employing these elements, narrative writing engages readers on an emotional level, transporting them into the world of the story and leaving a lasting impact.
Understanding the narrative writing style and its elements can help writers create engaging stories that resonate with readers, leaving a lasting impression long after the final page is turned.
Characteristics of Writing Styles
Each writing style has its own unique characteristics that distinguish it from others. Understanding these defining features can help writers effectively utilize different styles to convey their message and engage their audience.
Expository writing is focused on providing information and explaining concepts. It is characterized by its objective tone and absence of the author's opinions. This style relies on clear and concise language to convey ideas accurately. Expository writing often includes logical organization, facts, and evidence to support the topic being discussed.
Descriptive writing aims to create a sensory experience for the reader. It uses vivid language, imagery, and sensory details to paint a vivid picture in the reader's mind. This style often includes metaphors, similes, and other literary devices to evoke emotions and engage the senses. Descriptive writing appeals to the reader's imagination, allowing them to envision the scenes and settings described.
Persuasive writing is designed to convince the reader of a particular viewpoint or argument. It employs strong arguments, logical reasoning, and appeals to emotions to sway the reader's opinion. This style often includes the author's opinions and biases, supported by evidence and persuasive language. Persuasive writing aims to change the reader's mindset or persuade them to take a specific action.
Narrative writing tells a story, often incorporating characters, conflict, and a specific setting. It aims to engage the reader through a compelling plot and character development. Narrative writing can be found in various forms, such as novels, short stories, and memoirs. This style includes dialogue, descriptive language, and a clear narrative structure to captivate the reader's attention.
In summary, each writing style holds its own unique characteristics. Expository writing focuses on providing information objectively, descriptive writing creates vivid imagery, persuasive writing aims to convince the reader, and narrative writing tells a story. By understanding these defining features of each writing style, writers can choose the most appropriate style to effectively convey their message and engage their audience.
Choosing the Right Writing Style
When it comes to writing, selecting the right style is crucial for effectively conveying your message to the intended audience. Each writing style has its own unique purpose and characteristics, and understanding how to match the style to the purpose is key to creating engaging and impactful content.
If your goal is to inform or educate your readers, expository writing may be the best choice. This style focuses on explaining concepts and providing information without including the author's opinions. It is commonly used in textbooks, how-to articles, recipes, and scientific or business writing.
On the other hand, if you want to create a vivid experience for your readers, descriptive writing is the way to go. This style aims to paint a sensory picture by using detailed descriptions and literary devices. Descriptive writing can be found in poetry, journal entries, nature descriptions, and fictional works.
If your objective is to persuade your audience and influence their opinions, persuasive writing is the most suitable style. This style includes the author's opinions, biases, and justifications supported by evidence. It is commonly used in cover letters, opinion pieces, reviews, and letters of recommendation.
Lastly, if you want to tell a story and engage your readers through characters, conflicts, and settings, narrative writing is the ideal choice. Narrative writing can be found in novels, short stories, poetry, and even oral histories. It allows you to transport your readers into a world of imagination and emotion.
Remember, the choice of writing style depends on the purpose of your writing and the audience you are targeting. By understanding the characteristics and purposes of each style, you can select the most appropriate one to convey your message effectively and engage your readers.
Combining Writing Styles
When it comes to writing, why limit yourself to just one style? By combining different writing styles, you can create more engaging and impactful content. Whether you're writing an essay, a blog post, or even a novel, incorporating multiple writing styles can help you capture your reader's attention and convey your message effectively.
One way to combine writing styles is by using descriptive elements within a persuasive or expository piece. For example, if you're writing a persuasive essay about the importance of environmental conservation, you can paint a vivid picture of the consequences of not taking action. By using descriptive language to describe the beauty of nature and the potential devastation caused by pollution, you can captivate your audience and make your argument more compelling.
Another way to combine writing styles is through the use of narrative techniques in an expository or informative piece. By telling a story or using anecdotes, you can make complex concepts more relatable and easier to understand. This can be particularly useful when writing educational content or explaining abstract ideas. By weaving storytelling elements into your writing, you can engage your readers on an emotional level, making the information more memorable.
Example: Combining Descriptive and Narrative Writing
"As the sun began to set, casting a warm golden glow over the sprawling meadow, Sarah felt a sense of peace wash over her. The gentle rustling of the leaves and the melodic chirping of the birds created a symphony of sounds that seemed to transport her to a different world. It was in this idyllic setting that she made a promise to herself – a promise to protect and preserve the natural beauty that surrounded her.
Years later, Sarah would reflect on that moment as she stood in front of a crowd, delivering a passionate speech about the urgency of environmental conservation. She would recount the vibrant colors of the meadow, the fragrance of the wildflowers, and the feeling of connection to something greater than herself. Through her vivid storytelling, Sarah was able to inspire others to take action, using the power of words to make a difference."
By combining descriptive and narrative writing, Sarah was able to engage her audience and create a lasting impact. This is just one example of how combining writing styles can elevate your content and make it more compelling. So don't be afraid to experiment and explore different writing styles, and create a unique blend that suits your purpose and resonates with your readers.
Advancing Your Writing Skills
Improving your writing style and developing new techniques is essential for advancing your writing skills . By honing your craft and expanding your repertoire, you can become a more versatile and skilled writer. Here are some ways to enhance your writing abilities:
1. Experiment with Different Writing Styles
Challenge yourself by practicing different writing styles. Try your hand at expository, descriptive, persuasive, and narrative writing. Each style has its own unique characteristics and requires a different approach. By experimenting with a variety of styles, you can discover what works best for you and broaden your range as a writer.
2. Read Widely
Reading a wide range of literature can greatly improve your writing skills. Expose yourself to different genres, authors, and writing styles. Pay attention to how skilled writers use language, structure their sentences, and create engaging narratives. Reading extensively not only inspires your own writing but also helps you develop a discerning eye for quality and craftsmanship.
3. Seek Feedback and Learn from Critique
Sharing your writing with others and receiving constructive feedback is crucial for growth. Join writer's groups or workshops where you can receive honest critique from fellow writers. Take the opportunity to learn from their perspectives and insights. Constructive criticism can help you identify areas for improvement and refine your writing style.
Remember, advancing your writing skills is a continuous process. Practice, persistence, and a willingness to learn from others are key to becoming a better writer. By exploring different writing styles, reading widely, and seeking feedback, you can elevate your writing to new heights.
In conclusion , understanding the four main types of writing styles – expository, descriptive, persuasive, and narrative – can greatly enhance your writing abilities. Each style has its own purpose and characteristics, and knowing when and how to utilize them can make your writing more effective and engaging.
Expository writing is ideal for providing information and explanations, while descriptive writing creates vivid sensory experiences for the reader. Persuasive writing convinces the audience of a certain viewpoint, and narrative writing tells captivating stories with characters and conflicts.
By continually developing your writing skills and expanding your knowledge of different writing styles, you can become a versatile and skilled writer. Experiment with different techniques, explore various genres, and read widely to gain inspiration and insight into the world of writing. With practice and dedication, you can master the art of choosing the right writing style for any purpose and create impactful and compelling content.
What are the four main types of writing styles?
The four main types of writing styles are expository, descriptive, persuasive, and narrative.
What is expository writing?
Expository writing focuses on explaining concepts or sharing information without including the author's opinions.
What is descriptive writing?
Descriptive writing aims to create vivid images in the reader's mind by appealing to their senses.
What is persuasive writing?
Persuasive writing is designed to convince the reader of a certain viewpoint or argument.
What is narrative writing?
What are some examples of expository writing.
Examples of expository writing include textbooks, how-to articles, recipes, and business or scientific writing.
What are some examples of descriptive writing?
Examples of descriptive writing include poetry, journal/diary entries, descriptions of nature, and fictional novels or plays.
What are some examples of persuasive writing?
Examples of persuasive writing include cover letters, opinion pieces in newspapers, reviews, and letters of recommendations.
What are some examples of narrative writing?
Examples of narrative writing include novels, oral histories, poetry, and short stories.
Can different writing styles be combined in a single piece?
Yes, it is possible to incorporate multiple writing styles within a single piece of writing for added impact and engagement.
How can I enhance my writing skills?
To enhance your writing skills, consider practicing different writing styles, experimenting with new techniques, and reading a wide range of literature.
Why is understanding different writing styles important?
Understanding different writing styles can greatly enhance your writing abilities by helping you choose the appropriate style for your purpose and audience.
Related Posts
LSAT vs. GMAT vs. GRE vs. MCAT (Comparison, Percentiles, Format, Time, Difficulty)
How Much Education Do I Need? (Costs vs. Benefits)
Leave a reply cancel reply.
Your email address will not be published. Required fields are marked *
Save my name, email, and website in this browser for the next time I comment.
What is Descriptive Writing? Its Techniques and Examples
Shamim imtiaz.
Created on February 18, 2022
Blog , English , Exam Tips , Free Resources
Descriptive writing is a style or technique of writing used by the writer to help the reader vividly visualize the story or situation, using words, metaphors, adjectives, and other literary techniques.
This style of writing is useful when you want the reader to imagine or picture the story or situation you are writing about.
The idea is to provide the reader with rich detail for them to picture in their minds the characters, settings, objects, emotions, and places or even events taking place in real-time.
It does sound easy, but many students and adults find that fine-tuning this skill is challenging.
But, it's not impossible!
By using Tutopiya's quick manual below, on what is descriptive writing, its techniques, and examples, you can achieve this.
Five Main Techniques and Examples
1. five senses rule.
For any novice writer learning the ropes of descriptive writing, the first rule is to appeal to all the five senses of the reader.
Using detail that attracts the five senses, sight, hearing, taste, touch, and smell will surely set the tone right for a good piece of descriptive writing.
This kind of detail will make the writing more interesting and engaging.
Take a look at the example below:
'The gentle warmth of the morning sun caressed my face, the moist yet nostalgic fragrance of wet grass after all that rain transported me back to my childhood. '
2. Removing Apparent Description
Description or detail that is very normal and apparent should be left out of writing as it takes up undue space.
Using that space to fill your work with fresh new ideas or words will make your writing more convincing.
It will also give you more time and room to think of other ways of making your writing interesting.
Things that are usual, like the color of the grass or the sky.
Even sounds of animals that we come across every day.
Do not waste time thinking of how to make them any more interesting than they are.
'The old garden was blooming with colorful flowers once again.'
We all know that flowers are colorful and that they grow in gardens.
Hence emphasizing this sentence with 'colorful' does not add any new value.
So, saying 'The old garden was blooming with flowers once again' makes the same image in the readers' mind as it is.
3. Using Figurative/ Descriptive Literary Techniques
Techniques such as Personification, Similies, Hyperboles, Onomatopoeia, and Metaphors are critical masterstrokes that writers use.
Not only do these enhance the language but also provide richness to the writing.
When you attribute a human quality or emotion to an inanimate object that is called Personification.
For example – 'The chair squeaked as I started to rock it to and fro..'
Similies are basic comparison techniques that compare one thing with another, using the words 'as' and 'like'.
For example- 'The warrior was as brave and fearless as a lion on the battlefield'.
Hyperboles are the easiest out of the lot.
They are used to exaggerate and create a lasting impression on the reader.
For example – 'The army rained down their arrows as the enemy approached the castle walls'.
'It seemed like the suitcase weighed a tonne…'
Metaphors are used to compare a thing or person to something else that has similar qualities.
For example – 'In the morning there was a blanket of snow covering the whole garden'.
'He was the black sheep of the whole family.
Lastly, Onomatopoeia is a very interesting technique that assigns the sounds to what the words actually mean.
For example – 'Pitter-patter, pitter-patter, poured the rain on the roof of my treehouse'.
'As we trudged up the hill, the dry twigs and leaves cracked and crunched under our boots.'
Apart from the main techniques above, there are some subtle yet powerful ones called Emotive Language and Oxymorons.
Emotive Language is a way of evoking a particular emotional response in the reader.
For example – 'the innocent and infectious smiles of the children filled the room with immeasurable delight' .
'As the survivors emerged from the rubble, they gazed upon the shadow of death and destruction.
Additionally, Oxymorons are phrases that contain two contradictory terms.
For example- Julia hurriedly stuffed a piece of cake in her mouth, and said," this cake is awfully good Aunt Rose"
4. Using Fresh/New Descriptive Words
Sometimes, fresh and novel words or phrases stick with readers.
That is why descriptive writing is a constantly evolving process.
There is no one correct way of writing in this style.
If the readers connect with your words then you know it's right.
That is why finding fresh ways to connect with the reader is important.
It is very common to write 'the gentle breeze touched my face
Try saying 'a tender breath of fresh spring air caressed our faces..'
It is all about trying new words or adjectives and seeing which ones best convey the feeling you are trying to write about.
5. Reading Good Samples of Descriptive Writing
Reading is a very easy yet sublime way to improve any type of writing skill.
It doesn't matter whether the material is descriptive or narrative in nature.
What matters is that reading is a very subconscious way of learning how to write well and descriptive writing is no different
If you wish to succeed as a fine descriptive writer then, the most natural way to do so is to read descriptive material yourself.
Reading and writing are a part and partial of our lives, we are surrounded by language and words.
The more we read, the more exposure we get to different writing styles, new words, and phrases, or even new trends of writing.
The mind absorbs several concepts, ideas, signs, words, and detail subconsciously.
The trick is to make reading a constant habit so that the information being synced in can also translate through personal skill and help you tell your story successfully.
See author's posts
Recent Posts
Rumaylah Ghouse: The Tutopiya Teacher Who's Inspiring Us All to Learn
How do I get an A* for IGCSE First Language English?
Mastering the Equation of a Line | Cambridge IGCSE Mathematics
Unveiling the Secrets of Enzymes: The Intricate Lock and Key Mechanism
Exploring Scalars and Vectors| Cambridge IGCSE Physics
Unlocking the Mysteries of Cellular Diffusion| Cambridge IGCSE Biology
Ultimate Guide to Travel Graphs| Cambridge IGCSE Mathematics
Master Quadratic Functions | Cambridge IGCSE Mathematics
Beyond Perception: Exploring the Secrets of Organism Size | Cambridge IGCSE Biology
Mastering Basic Differentiation Rules | Cambridge IGCSE Mathematics
Get Started
Learner guide
Tutor guide
Curriculums
IGCSE Tuition
PSLE Tuition
SIngapore O Level Tuition
Singapore A Level Tuition
SAT Tuition
Math Tuition
Additional Math Tuition
English Tuition
English Literature Tuition
Science Tuition
Physics Tuition
Chemistry Tuition
Biology Tuition
Economics Tuition
Business Studies Tuition
French Tuition
Spanish Tuition
Chinese Tuition
Computer Science Tuition
Geography Tuition
History Tuition
TOK Tuition
Privacy policy
22 Changi Business Park Central 2, #02-08, Singapore, 486032
All rights reserved
©2022 tutopiya
Come to those who subscribe to our Newsletters!
No thanks, I'm not interested!
Newspapers & Magazines
Request Article
What is descriptive expository writing?
Descriptive writing is a sort of expository writing in which the five senses are used to build a picture for the reader. This work includes images as well as precise details. The writer uses these senses to describe scenes, objects, people, places, and events as they see them or experience them.
The goal of this type of writing is to give the reader a clear picture of what is being described. For example, if you were writing about a place you could describe what it looks like, where it is located, and any people you saw there. You would also need to include what kind of environment it is (e.g., city center, desert) so your reader knows how to interpret what you are saying.
In addition to describing things clearly, the writer should also be aware of possible biases when writing about real people or events. For example, if you were writing about a famous person such as Einstein or Gandhi you would want to make sure that your description was equal for both men and didn't favor one over the other. In order to do this you would need to know something about both people and use your knowledge to ensure that their differences weren't overlooked when writing about them together.
Finally, descriptive writing requires research.
Table of Contents
What are some illustrations of descriptive language, how does the use of descriptive language affect the reader.
Descriptive is defined as providing information or describing something. A descriptive person is someone who gives an extremely thorough narrative of an experience they had; a descriptive person. Are you concerned about classification or description? A scientific explanation of how objects are related to each other based on common characteristics; for example, mammals are all living organisms that produce milk through the process of lactation. Classification is also used in libraries when ordering books or media. For example, if you were looking for non-fiction books on mammoths, you would say so by specifying that you want to read about mammals and then placing an order for these books to be sent to your home address.
The two main types of descriptions are factual and expressive. Factual descriptions are based on facts that have been verified through research or observation. They provide information that can be proven true or false. For example, "Mammoths are extinct animals" is a factual description because it is based on actual evidence that indicates that mammoths are in fact extinct. Expressive descriptions are subjective interpretations of facts or experiences. For example, "Mammoths are awesome creatures" is an expressive description of mammoths because it uses adjectives to describe their appearance and behavior. Adjectives can only describe facts or experiences and cannot change them - only the speaker can do that.
An author use descriptive language to paint a mental image of a character, environment, or scene in the mind of the reader. Descriptive writing adds depth and authenticity to a tale by allowing readers to visualize the actual environment and people created by the writer.
The choice of words used by an author has the power to create images in the minds of his readers . A story is told through words, and therefore they must be chosen carefully. The writer uses adjectives to enhance the quality of a story and make it more appealing. These words give life to concepts by describing their appearance and feel. Without these descriptions, ideas would be flat and uninteresting.
Adjectives are also useful tools for creating suspense in a story. If the author chooses the right ones , they can make the reader curious to find out what happens next. With this in mind, it is important for authors to know how to use them effectively.
Descriptive language can also influence the reader's opinion of a story. If an author chooses strong adjectives , they can make his characters come to life and help the reader connect with them. This form of writing can also attract readers if used correctly. In conclusion, descriptive language is essential in storytelling because it can make scenes and characters come to life and help readers understand what is happening in the story.
About Article Author
James Johnson
James Johnson is a writer and editor. He loves to read and write about all kinds of topics-from personal experience to the latest trends in life sciences.
Related Posts
What is the purpose of the author in writing this text, is descriptive writing expository, what are the main features of descriptive text, what is the purpose of descriptive writing, what makes good descriptive writing, related posts.
How is description used in writing a paragraph?
By Peter Perry
What is a descriptive writing style?
By Geraldine Thomas
How do you use descriptive writing?
By Donald Goebel
How do you describe your senses in writing?
By Jennifer Green
Legal stuff.
Terms and Conditions
Privacy Policy
Copyright © 2020 - 2023 Authors Cast Inc.
Expository Essay
Definition of expository essay.
Expose means to uncover or lay something bare, or to discover something in a way that others know what it is. Expository is derived from exposition , which is a noun of 'expose.' An expository essay is a genre of writing which tends to explain, illustrate, clarify, or explicate something in a way that it becomes clear for readers. Therefore, it could be an investigation, evaluation, or even argumentation about an idea for clarification.
Types of Expository Essay
Expository essay is further divided into five major categories .
Descriptive Essay : A descriptive essay describes something, some place, some experience, or some situation through sensory information.
Process Essay : A process essay explains or shows a process of making or doing something.
Comparison Essay : A comparison essay makes comparison and contrasts between two things.
Cause/Effect Essay : A cause and effect essay finds out the cause of something and then its effects on something else.
Problem/Solution Essay : A problem/solution essay presents a problem and its solution for readers.
Difference Between an Expository Essay and an Argumentative Essay
As is clear, an expository essay is an exposition, explanation, investigation, or illustration for the purpose of clarification, therefore, its tone is often kept neutral. However, in an argumentative essay , a clear position about something is taken before the argument is presented. There is no issue of objectivity or neutrality.
Examples of Expository Essay in Literature
Example #1: how chinese mothers are superior (by amy chua).
"I'm using the term 'Chinese mother' loosely. I know some Korean, Indian, Jamaican, Irish and Ghanaian parents who qualify too. Conversely, I know some mothers of Chinese heritage, almost always born in the West, who are not Chinese mothers, by choice or otherwise. I'm also using the term 'Western parents' loosely. Western parents come in all varieties. All the same, even when Western parents think they're being strict, they usually don't come close to being Chinese mothers. For example, my Western friends who consider themselves strict make their children practice their instruments 30 minutes every day. An hour at most. For a Chinese mother, the first hour is the easy part. It's hours two and three that get tough."
This is an excerpt from a comparison/ contrast essay by Amy Chua, which explains how mothers are different in different cultures. This paragraph compares mothers from Chinese, Iranian, Jamaican, and Irish contexts .
Example #2: Learning to Read (by Malcolm X)
"It was because of my letters that I happened to stumble upon starting to acquire some kind of a homemade education. I became increasingly frustrated at not being able to express what I wanted to convey in letters that I wrote, especially those to Mr. Elijah Muhammad. In the street, I had been the most articulate hustler out there. I had commanded attention when I said something. But now , trying to write simple English, I not only wasn't articulate, I wasn't even functional. How would I sound writing in slang , the way I would say it, something such as, 'Look, daddy , let me pull your coat about a cat, Elijah Muhammad — ' Many who today hear me somewhere in person, or on television, or those who read something I've said, will think I went to school far beyond the eighth grade. This impression is due entirely to my prison studies."
This passage has been taken from a process essay. In this essay, Malcolm X tells the process of his learning. In this paragraph, he gives full detail how he learns letters.
Example #3: Summer Ritual (by Ray Bradbury)
"About seven o'clock you could hear the chairs scraping from the tables, someone experimenting with a yellow-toothed piano , if you stood outside the dining-room window and listened. Matches being struck, the first dishes bubbling in the suds and tinkling on the wall racks, somewhere, faintly, a phonograph playing. And then as the evening changed the hour, at house after house on the twilight streets, under the immense oaks and elms , on shady porches, people would begin to appear, like those figures who tell good or bad weather in rain -or-shine clocks. Uncle Bert, perhaps Grandfather, then Father, and some of the cousins; the men all coming out first into the syrupy evening, blowing smoke, leaving the wSWomen's voices behind in the cooling-warm kitchen to set their universe aright. Then the first male voices under the porch brim, the feet up, the boys fringed on the worn steps or wooden rails where sometime during the evening something, a boy or a geranium pot, would fall off."
This is an example of a passage from a descriptive essay. It has full description which tells us about sounds and colors; a type of sensory information.
Functions of an Expository Essay
The function of an expository essay is to clarify and expose things, ideas, persons, and places through description, process, comparison/contrast, or through problem solution. The objective of this type of essay is to make readers aware of things given in the essay. It proves full and detailed information in a way that readers become knowledgeable about the topic.
Related posts:
Elements of an Essay
Narrative Essay
Definition Essay
Descriptive Essay
Types of Essay
Analytical Essay
Argumentative Essay
Cause and Effect Essay
Critical Essay
Persuasive Essay
Process Essay
Explicatory Essay
An Essay on Man: Epistle I
Comparison and Contrast Essay
Post navigation